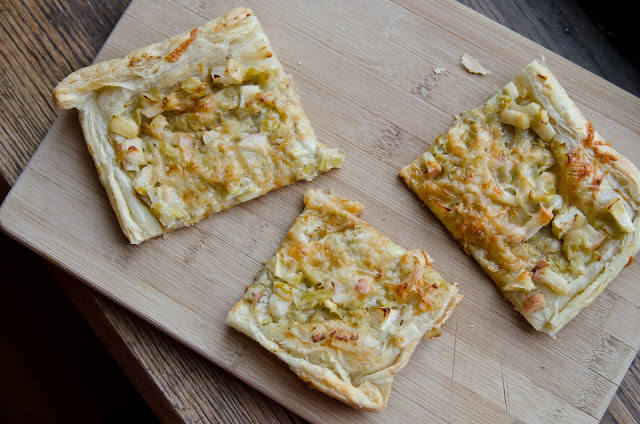 In my countdown to Canadian Thanksgiving, I wanted to quickly share a really delicious savoury fall-inspired tart that is extremely easy to put together. And even though it's a quick recipe, it looks labour intensive and will definitely impress your family and friends. Beyond that, it tastes amazing! This tart can be served in small pieces as an appetizer for your Thanksgiving meal, or as a vegetarian main dish. It's sweet, savoury, rich, creamy and deliciously crispy! An all-around winner :)
For my Canadian friends, what are you planning on serving at your Thanksgiving Day dinners this upcoming weekend? I'll be back tomorrow with another delicious idea for your Thanksgiving Day meal.
Ingredients
2 tablespoons of olive oil

2 leeks, well rinsed, halved and sliced

2 cloves of garlic, chopped

1/2 cup of white wine

3 sweet-tart apples, cut into 1/2 inch cubes

2 teaspoons of chopped fresh thyme

1 pinch of salt

1 pinch of pepper

1/4 cup of whipping cream (35%)

1 package (450g) of frozen rolled puff pastry, thawed

1 tablespoon of milk

2 tablespoons of Dijon mustard

3 ounces of shredded Parmesan cheese or Guyère cheese
Method
1. Preheat oven to 400'F.
2. Heat olive oil over medium-high heat. Sautée the leeks and garlic until softened (about 3 minutes).
3. Add white wine and cook over medium-high heat until almost no liquid remains (about 2 minutes). Stir in the diced apples, thyme, salt and pepper. Cook until the apples are softened slightly (about 3 minutes). Remove apple/leek mixture from heat and stir in the cream.
4. Meanwhile, unroll the puff pastry. On a floured surface, roll out 1 square to a 14 x 10-inch rectangle. Place on parchment paper-lined baking sheet. Brush 1 teaspoon of milk in 3/4 inch border around the pastry. Fold in the brushed corners and sides.
5. Spread half of the mustard on the unfolded base of the pastry. Top the pastry with half the leek/apple mixture (just to cover the dough) and then with the Parmesan or Guyère cheese. Do the same with the second roll of puff pastry.
6. Bake each tart until pastry is crisp and golden brown (about 25 minutes).  Let cool. Cut each tart into 8 pieces.
Source: Canadian Living Magazine – October 2012