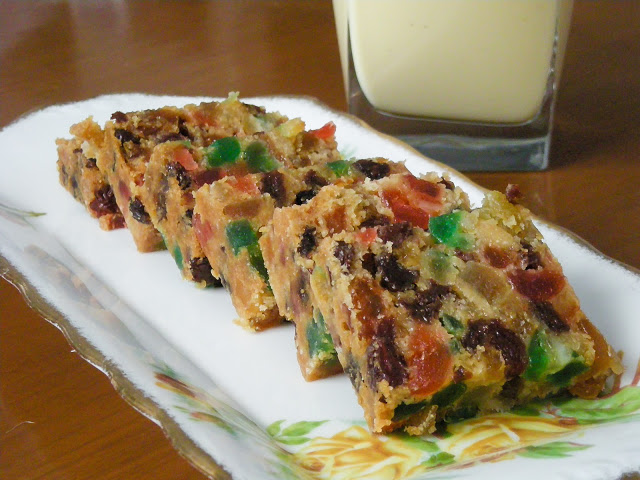 I love hearing about Christmas baking traditions. Some are very similar to my family's traditions & some are very different. Every year, my mom, sister and I make Eatons gingerbread cookies and shortbread cookies. My mom also makes an incredible poppycock (caramel corn) recipe each year the week before Christmas. I look forward to my batch even more than I look forward to Christmas morning! I'll be posting her fabulous recipe in a few weeks. In addition, I'll be posting some new recipes that may become tradition in my family. It's always fun to discover new favourites, as much as it's fun to make the classics year-to-year.
Today, I'm excited to share a guest post by my friend Julia. I asked her to share one of her family traditions with The Fig Tree. She chose to share her Aunt Jessie's fruitcake recipe. Now, I've never had any fruitcake before…because of the classic holiday stigma associated with fruit cake. The only fruit cake we had in our house growing up was once used to prop open a door! *hah* But Julia just delivered me a piece of fruitcake to try and I'm very excited to have it with my tea tonight. It looks and smells delicious! Plus, it's so fresh and moist – very much unlike the fruitcake we had at home when I was a kid. So, without further ado, here is Julia's wonderful guest post about her family's fruitcake recipe.
Aunt Jessie's Fruitcake Recipe by Julia Derksen
Making fruitcake is an annual tradition in my family and I'm pleased to be able to share 
our recipe with you as a guest on The Fig Tree. I know that fruitcake may have a bad 
rep, but I feel that it is totally undeserved. Sure, there are bad fruitcakes out there, but 
fruitcake done right is amazing. Just look at the list of ingredients – what's not to love? 
Sweet glace fruit mixed in just enough citrus cake batter to hold them together? Yes 
please! So please reserve your judgment until you have tasted my family's fruitcake 
recipe and I promise you won't be disappointed! This is the recipe that I follow because 
we are big fruitcake eaters and it makes a LOT. You can easily cut this recipe down to
Ingredients
2 c. sugar

1 lb salted butter, softened

1 dozen eggs

6 c. flour

3 tsp baking powder

1 tsp salt

1 c. orange juice

2 lb dark raisins

2 lb light raisins

2 lb red glace cherries

2 lb green glace cherries

2 lb glace mixed fruit

1/2 lb mixed peel

1 lb glace pineapple

100 g slivered almonds


Method
1. Cut cherries in half and mix the raisins, fruit and nuts together in a large bowl 
with 4 cups of the flour and let sit overnight.
2. Butter and lightly flour pans. I borrow my Grandma's vintage pans that belonged 
to her Grandma. They are square pans (4, 6, 8 and 9 inches) with removable 
bottoms and the full recipe uses all four of them. You can find them online and 
in stores by searching for cheesecake pans. You could also easily use a spring form 
pan, just as long as your pan is deep and has a removable bottom.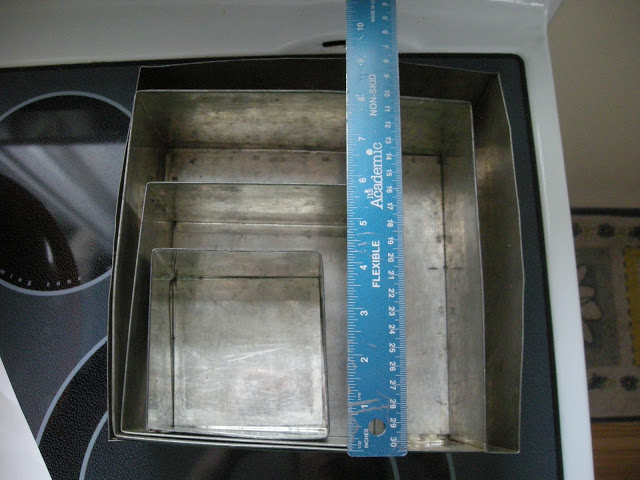 3. Cream butter and sugar. Add eggs one at a time and mix well. In a separate bowl, 
mix remaining 2 cups flour, baking powder and salt together. Add alternately 
with orange juice to the butter mixture.
4. Add some fruit and some batter to a large bowl or roasting pan. Mix. Keep adding 
some fruit and batter and mixing until they are all combined. Stir for a long 
time, even if it looks mixed – you need to get all the flour that was on the fruit 
combined. Mixing this much fruit is hard work and your arms will get tired. Take 
a small break but go back to mixing! If you make a full recipe you may want to 
make two half batches and mix them together at the end. I took pictures of what 
the batter looks like when it's just barely mixed and when the mixing is finished.
As you can see from the second picture, the batter looks different after it's been 
mixed long enough. It gets to be more of a thicker and smoother cake batter.
5. Transfer batter and fruit mixture to prepared removable bottom pans. Fill 2/3 
full. Press the mixture into the corners and spread evenly. Scrape out any leftover 
batter from your mixing bowl (or turkey roaster as the case may be with a big 
batch) and spread thinly over top of the fruit already in the pans. This gives a bit 
of extra batter on top to protect the fruit while baking the cakes, as you can see 
from the following picture:
6. Bake at 275'F for 1 hour and then reduce heat to 250F and bake for 2 hours more 
or until done. A large cake takes about 3 hours total, whereas the smallest pan 
takes about 1.5 hours in total. Test with a cake tester and when it comes out clean 
the cake is done.
7. When cool flip them over onto parchment paper and press out of the pan. You 
may need to loosen the sides with a knife. Let them cool some more and then use 
a knife to loosen the bottom and take it off of the cake. When fully cooled wrap in 
plastic cling wrap and aluminum foil. The cakes can be frozen to be used at a later 
date as they freeze well. I had some leftover in my freezer from last year's batch 
and they still tasted fresh.
Prepare to have your opinion of fruitcake changed for the better and enjoy!
Source: recipe so kindly provided by Julia Derksen