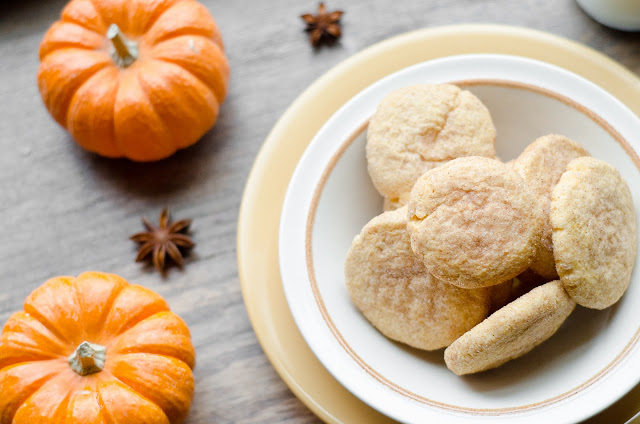 I love cookies. They are definitely my weakness when it comes to baking. I would rather cookies over any other dessert item. And e
ven though I adore cookies, I am usually able to limit my cookie consumption to a reasonable number of one or two after I've baked a batch. This was not the case with these pumpkin snickerdoodles!!! After baking them yesterday, I polished off TEN! I've never done that before! *hah* Ten cookies in one sitting!!! And I'm not the only one who thought these little spicy, sweet cookies were addictive. My boyfriend ate about the same amount after work yesterday and I got a call from my dad today requesting I drop more off. :)
 What I think is so addictive about these cookies is the crunchy coating provided by the sugar/cinnamon/ginger mixture you dip the dough in right before you bake the cookies. It caramelizes slightly and provides the best crisp texture when you bite into the cookie. However, the cookie itself is not crunchy or crisp. The interior of the cookie is super soft and cake like. The combination is perfect and the blend of spices is perfect for this time of year. I cannot begin to tell you how wonderful the kitchen smelled yesterday while these snickerdoodles were baking in the oven. Mmmm!
That's it…I'm off to bake another batch. :) Enjoy your week everyone!
Cookie Ingredients
3 and 3/4 cups of all-purpose flour

1 and 1/2 teaspoons of baking powder

1/2 teaspoon of salt

1/2 teaspoon of ground cinnamon

1/4 teaspoon of ground nutmeg

1 cup (2 sticks) of unsalted butter; at room temperature

1 cup of granulated white sugar

1/2 cup of light brown sugar

3/4 cup of pumpkin purée

1 large egg

2 teaspoons of pure vanilla extract
Coating Ingredients
1/2 cup of granulated white sugar

1 teaspoon of ground cinnamon

1/2 teaspoon of ground ginger

dash of all spice (about an 1/8 of a teaspoon)
Method
1. In a medium bowl, combine the flour, baking powder, salt, cinnamon and nutmeg. Whisk to blend and set aside.
2. With an electric mixer, beat together the butter and sugars on medium-high speed until light and fluffy (2 to 3 minutes). Blend in the pumpkin purée. Beat in the egg and vanilla until well incorporated. 
3. With the mixer on low speed, add in the dry ingredients to the wet ingredients. Mix until just incorporated. Cover and chill for at least an hour.
4. Preheat the oven to 350'F. Line a baking sheet with silicone baking mats or parchment paper.
5. Combine the ingredients for the coating in a bowl. Mix well.
6. Scoop dough out into 2 and 1/2 tablespoons scoop and roll into a ball. Coat the dough ball in the sugar-spice mixture and place on the prepared baking sheet. Repeat with the remaining dough; enough to fill the cookie sheet. Make sure to space the dough balls about 2 inches apart. Note: this recipe yields 3 dozen cookies.
7. Dip the bottom of a flat, heavy bottomed drinking glass in water and then in the sugar-spice mixture. Use the bottom of the sugared glass to flatten the dough balls slightly. Re-coat the bottom of the glass in the sugar-spice mixture as needed.
8. Bake the cookies for 10 to 12 minutes (or until just set and baked through). Let the cookies cool on the baking sheets for about 5 minutes then transfer them to a wire rack to cool completely. Repeat with the remaining dough. 
Store cookies in an airtight container.
Source: Annie's Eats