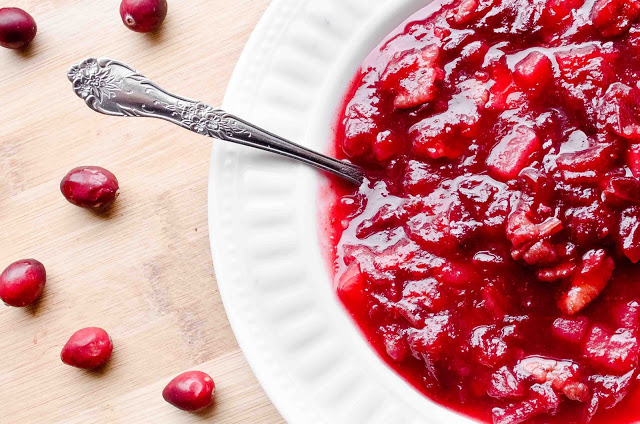 If you are looking for a really special cranberry sauce to serve this holiday season, look no further. This holiday cranberry sauce is fantastic and will have everyone asking for seconds and thirds. It has quickly become a family favourite over the past few years. It's tart and sweet and full of autumn fruits and flavours. The addition of chopped apples and pears along with the chopped pecans make this cranberry sauce a nice contrast to the usual canned cranberry sauce served at many holiday dinners. It's made with wonderful fresh ingredients taking advantage of fruits at their peak. This ruby red sauce will have your home smelling of warm cinnamon and spicy nutmeg. Feel free to use this holiday cranberry sauce as filling for a delicious homemade pie. Just be sure to adjust the sugar to taste, as cranberries can be quite tart.
If you are a vegetarian like me, you may be wondering what you can serve this cranberry sauce with. I recommend serving it as a condiment on Vegetarian Shepperd's Pie or as a spread on Pumpkin Honey Walnut Bread. You could even make a vegetarian "meat"loaf and serve this cranberry sauce on top.
Ingredients
1 cup of water

1/2 cup of granulated white sugar (another 1/4 cup if sauce too tart)

1 apple; peeled and diced

1 pear; peeled and diced

1 orange

12 ounces (1 package) of fresh cranberries

1/2 teaspoon of salt

1 cup of pecans; chopped

1 teaspoon of ground cinnamon

1/2 teaspoon of ground nutmeg
Method
1. In a medium saucepan on medium heat, allow the sugar to dissolve into the water to create a simple syrup.
2. Add the cranberries, chopped pear and chopped apple to the sugar/water mixture. Allow the mixture to begin to boil then reduce to a simmer. 
3. Cut the orange in half and squeeze juice into the sauce. Watch out for seeds! Discard the orange. 
4. Add the salt, ground cinnamon and ground nutmeg to the mixture. Allow the mixture to simmer for 30 minutes. After the sauce has been simmering a while, you'll notice the cranberries begin to pop and the sauce will slowly thicken up. Add any additional sugar and then the pecans. Simmer for another 5 minutes, remove from heat and allow the sauce to cool to room temperature.
Store holiday cranberry sauce in a container in the fridge until ready to serve with your Thanksgiving or Christmas meal. Enjoy!