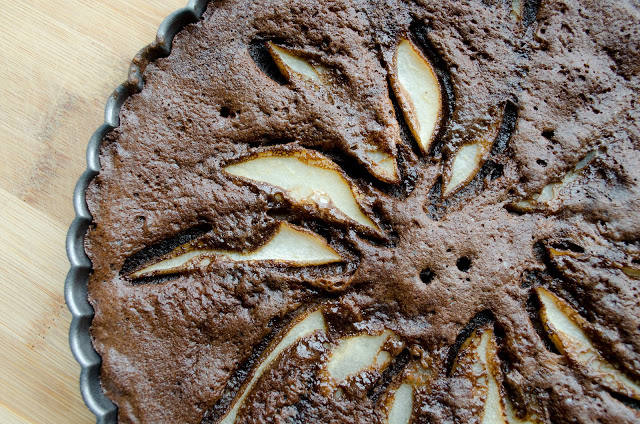 My apologies that I've not posted anything for the past ten days. I just got back from a fantastic nine day adventure in New York City! I had hoped to post about my first time in The Big Apple throughout my trip, but the internet connection at the hotel was way-too-slow. My boyfriend and I stayed at a gorgeous little boutique hotel in central Manhattan. The hotel, as nice as it was, was built in the early 1900's and did not have the most updated internet connection. *hah*
 Soooo….looks like I have some catching up to do post-wise! I have some NYC restaurant reviews planned, stories to tell about my fabulous trip, some new fall-related recipes to share and some new upcoming Fig Tree features to discuss. Oh! And I will also post all the Thanksgiving recipes I featured in my Thanksgiving post on October 10, 2011, starting with this delicious dark chocolate pear tart with amaretto whipped cream. Mmmmm! Frankly, the winning component of this dish is the amaretto whipped cream. I may start putting it on EVERYTHING. Mashed potatoes? Add some amaretto whipped cream! *hah* Just kidding. The amaretto whipped cream really does enhance this dessert though, so I recommend it whole-heartedly :) This dessert is a real winner if you are looking for a quick gluten-free treat to make for yourself or a gluten-free friend.
Ingredients
1/2 cup of unsalted butter; room temperature

1 cup (5 ounces) of blanched whole almonds

3/4 cup of white sugar

3 large eggs

1/3 cup of unsweetened cocoa powder

1 teaspoon of pure vanilla extract

1/2 teaspoon of salt

3 large ripe, firm Bartlett pears

1 and 1/2 cups of 35% whipping cream

1 tablespoon of amaretto liqueur

1 tablespoon of icing sugar
Method
1. Preheat oven to 350'F. Grease the bottom and sides of a 9-inch tart pan with a removable bottom.
2. Make the crust: in a food processor, pulse the almonds and sugar until nuts are very finely ground. Add butter, eggs, cocoa, vanilla and salt. Process until combined. Spread the mixture evenly into the tart pan.
3. Make the topping: peel, halve and core the pears. Cut the pears lengthwise into 1/4 inch thick slivers/slices. Note: You can rub the slices with fresh lemon juice to prevent them from browning or discolouring. Arrange the slices on the chocolate mixture by slightly overlapping them. Be sure not to press them into the batter.
4. Place the tart pan on a rimmed baking sheet and bake until the top if puffed and a tested inserted in the centre comes out with only a few moist crumbs attached (45 to 50 minutes). Transfer the pan to a wire cooling rack and cool completely.
5. Make the amaretto whipped cream: in an electric mixer bowl, combine the sugar and whipping cream on high until soft peaks start to form. While the machine is still running, add the amaretto liqueur. Whip until soft peaks have fully formed.
6. Slice the tart and serve with a dollop of the amaretto whipping cream. Enjoy!
Source for Chocolate Tart: Martha Stewart; Source for Amaretto Whipped Cream: Courtney Jones