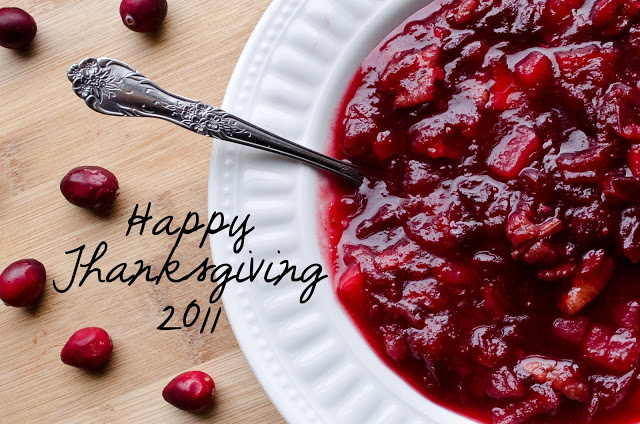 Thanksgiving is my very favourite holiday. Don't get me wrong…I'm pretty obsessed about Halloween and Christmas too, but for some reason Thanksgiving holds a special place in my heart. As a kid, I remember spending time at my aunt's cabin over thanksgiving every year. All the cousins would build huge forts with the leaves and then we'd all funnel into the cottage where a huge turkey dinner awaited us. All the kids would stuff their faces and then rush back outside to play in the cool autumn air. I remember the smells of the old fire stove and the musty leaves like it was yesterday. After dinner, my dad and I would always take a walk along the beach and talk about life. We'd talk about what we were thankful for. We'd talk about friends and family. We'd make wishes for the upcoming year. 


Eventually my parents bought their own cottage and we soon started hosting thanksgiving for my mom's family. My mom would put together a huge spread of turkey, perogies, mashed sweet potatoes, corn casserole and homemade pumpkin pie. While mom cooked, the rest of the family spent time playing football in the yard and playing in the leaves. It was always so much fun. I'll never forget the year we had a black bear visit us all during one of our thanksgiving dinners. It was a tad scary! The bear pulled the pipes off the back of the cabin in an attempt to get at the stove! I already knew that my mom's cooking is the best. Apparently word had gotten out to the entire bear population in the area too. *hah*


After my parents sold the cabin in my early 20's, we created new traditions of having thanksgiving at my grandparents' place in the city. I also created an annual "Friendsgiving" where me and my friends all get together and have a huge thanksgiving potluck feast and play football in the park. This past weekend, we celebrated our 4th Annual Friendsgiving and it was a lot of fun. A great way to spend an afternoon with friends. And a good excuse to eat WAY too much food! 


As you can see, I love thanksgiving; mainly for all of the traditions that have been created over the years. And well, also because thanksgiving food is the best. I did not always feel that way though. After I became a vegetarian 15 years ago, I suddenly found no desire to attend thanksgiving dinner. I could no longer eat ham or turkey. And I was not a huge fan of vegetables back in the day. I even had a brief aversion to pumpkin pie after I became a vegetarian! Not too sure how that happened!


However, over the years, I've spent time finding delicious recipes that would be perfect for a fantastic, hearty, flavourful vegetarian thanksgiving dinner. Tonight I was lucky enough to make dinner for my family – a full vegetarian thanksgiving meal.


So, what did I make to feed my meat-eating family members on thanksgiving?
Homemade cranberry sauce

Balsamic maple Stuffing with roasted apples and cranberries

Cinnamon scented sweet potatoes with apples and cranberries

Mashed rutabagas with brown sugar
We were stuffed and fluffed and I don't think anyone truly missed the meat during dinner tonight. Over the next few days, I'll be posting the recipes for all of the above menu items. Hopefully you can incorporate some (or all) of them in your next holiday meal. 


Since I'm not ready to give up on all the thanksgiving foods JUST yet…I'll continue testing out recipes up until the American thanksgiving in late November and celebrate all over again. :) 


And a question for you guys: what kind of family traditions do you have for thanksgiving? And what dishes do your families make year-after-year? I'd love to hear about your thanksgiving traditions :)