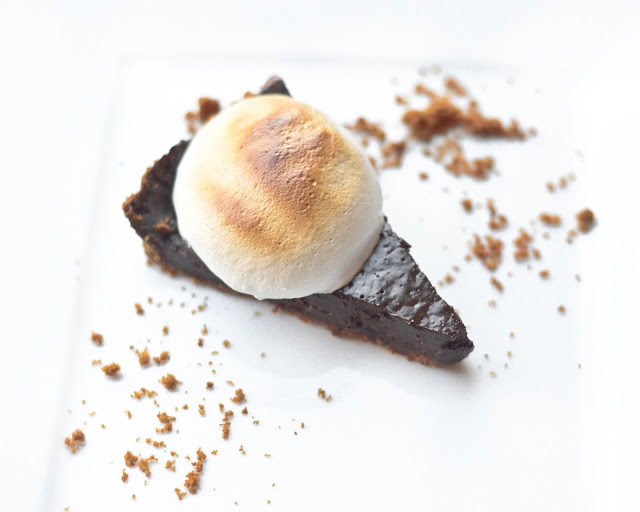 On Sunday I posted about the family movie night I attended where I served this amazing s'more pie. And, as promised, here is the incredibly easy recipe for the deliciously gooey pie. Creamy, melt-in-your-mouth chocolate reminiscent of dark chocolate truffles topped with sweet marshmallow cream toasted until crisp yet still messy & gooey. Mmmmm! You cannot go wrong serving this pie during a late summer BBQ. It's a sure hit; the perfect summer indulgence. Enjoy!
Ingredients
7 ounces of bittersweet (60%) baking chocolate

1 cup of cream (35%)

1 large egg; at room temperature

1 teaspoon of pure vanilla extract

1 pinch of fine salt

3/4 cup of graham cracker crumbs

3 to 4 tablespoons of unsalted butter; melted
Method
1. Preheat oven to 350'F.
2. In a small bowl, combine the graham cracker crumbs and the unsalted butter. Using a fork, mash the crumbs until they are well coated with butter. Press the mixture into a 9 inch pie pan. Bake the crust for 8 minutes. Allow crust to cool.
3. Place chocolate in a heat-proof bowl. Bring the cream to a simmer in a medium sauce pan. Once the cream is hot, pour it over the chocolate; allow to stand for 30 seconds. Whisk until combined.
4. Whisk in egg, vanilla and salt. Note: make sure the chocolate mixture is not too hot when you add the egg, or you'll get scrambled eggs in your chocolate mixture!
5. Pour the chocolate mixture into the prepared crust. Place the pie pan on a baking sheet. Bake for 25 minutes; or until softly set around the edges but still loose in the centre when shaken. Cool for 1 hour on a wire rack.
To Serve:
Preheat broiler. Spread marshmallow creme on the pie. Broil the tart for 30 seconds to a minute; or until the top is golden brown.
Source: Vegetarian Times Magazine: 2011 Farmer's Market Edition