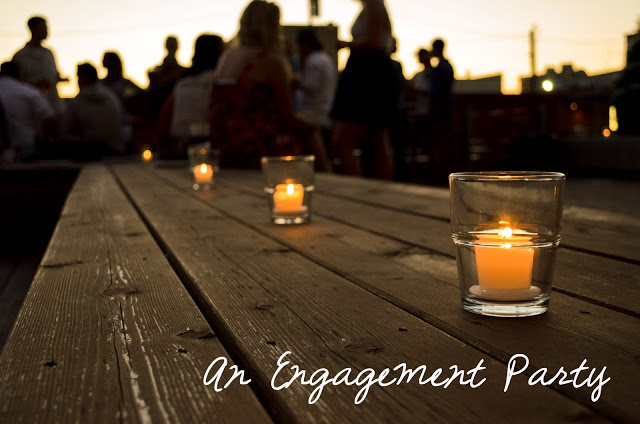 Recently my sister and her boyfriend (now fiancé) got engaged and I could not be happier for them. They've been dating for ages and I could not wait for them to get engaged and make everything official. Her fiancé has felt like apart of my family for a long time and it's fun to know he'll finally be my brother next summer. This past weekend, my sister's lovely bridesmaids and I held an engagement party for her and her fiancé out on the patio behind my condo.  
When they got engaged in May, my immediate reaction was…"I have to have an engagement party for them!" I had all sorts of appetizers and drinks in mind to make for the big party. This past Saturday, I cooked and baked up a storm for the party. And so did the other bridesmaids, my mom and my sister's to-be mother-in-law. *thanks ladies!* Everyone worked so hard to make the party truly memorable and special for my sister and her future husband.
One of the most memorable parts of the evening was definitely the food. I am sure my sister would agree :) Even though it was swelteringly hot outside during the party, everyone managed to polish off all of the food out on the buffet table. This was somewhat upsetting since I was really looking forward to leftovers the next day. *hah* So, what was on the menu?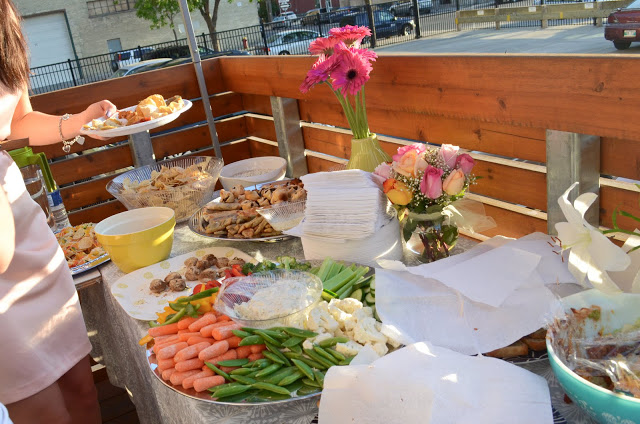 First, I have to say, my favourite appetizer of the night was the Jalapeño Popper Dip. I just recently discovered how delicious jalapeño poppers are. Apparently I've been hiding under a rock! While searching the Annie's Eats website for her famous Stuffed Mushrooms recipe to serve at the party, I stumbled upon the Jalapeño Popper Dip recipe. I literally jumped out of my chair and went straight to the store to get the ingredients for the dip. I just knew it would be delicious! I opted out of adding the mexican cheese and used low-fat cream cheese and mayo to try and lighten the dip up. It was still full of flavour. So much so, that people kept asking for the recipe all night.


In addition to the Jalapeño Popper Dip, I made a delicious Feta & Green Olive Dip served with simple whole grain crackers. As well as some Mexican Spring Rolls (recipe to be posted soon!) My mom made Greek Turkey Sliders with Feta Cheese on Mini Chiabatta Buns, as well as some Mini Beef Wellingtons. My sister's future mom-in-law made a delicious homemade hummus for the vegetarians in the crowd (ie. me) and a classic taco dip. Mmmm! My sister's friend Brandi brought one of my favourite treats – Veggie Pizza. You cannot beat puff pastry topped with creamy cheese and chopped fresh veggies. In addition to all of the mentioned goodies, we had Mozza Sticks, an awesome spread of fresh vegetables with dip, Pineapple Chicken Skewers and Fried Zucchini. Tasty!


For drinks, we had delicious Strawberry/Raspberry Sangria and beer provided by a local brewery Half Pints. And for dessert, chocolate cupcakes with strawberry buttercream. The recipe is similar to my Chocolate Cupcakes with Strawberry Frosting, but instead of a cream cheese frosting, I used strawberry purée in a luscious buttercream (ie. a full cup of butter and 4 cups of icing sugar!)


What is your favourite appetizer to bring to parties? Please leave appetizer suggestions in the comments. I need more ideas for my sister's upcoming wedding showers :) Thanks!


Have a great week everyone! Thanks for reading. ^_^