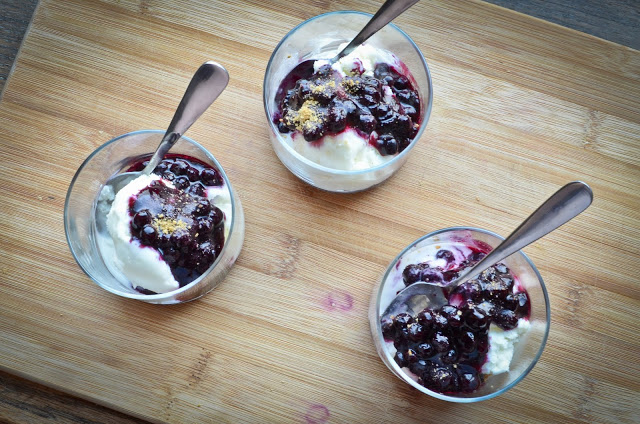 Last summer, I bought a Cuisinart Ice Cream Maker. I wanted to experiment with making various frozen desserts using cream, yogurt and/or soy. Plus, I'm a sucker for a new kitchen gadget. And what better gadget than one that makes the most delicious, fresh ice cream you'll ever have? :) Not to mention, a gadget that allows you to experiment with various flavours and toppings?
 Last year I made a few different varieties such as cinnamon ice cream that I served on top of warm pumpkin pie at Thanksgiving. I also made a delicious strawberry ice cream with fresh berries. The chocolate ice cream was extremely rich and was a favourite last summer. 
Last week I realized I had not used my ice cream maker in quite some time. And since it's summer (ie. ice cream season), I decided it was best I made some homemade ice cream ASAP. I stumbled upon a recipe for blueberry cheesecake ice cream in the homemade ice cream bible – The Perfect Scoop by David Lebovitz. I had to make it. So, I decided to make it to bring to my sister's fiancés birthday dinner last night (which was breakfast for dinner, by the way. Mmmmmm!) The dessert was a huge hit with everyone. And since it is such a rich ice cream, a little goes a long way. Topped with the blueberry sauce, it was perfect! I cannot wait to experiment with other toppings for this cheesecake ice cream batter.


Ingredients – Cheesecake Ice Cream
8 ounces of cream cheese; cut into small pieces

1 lemon; zested

1 cup of regular sour cream

1/2 cup of half-and-half

2/3 cup of white sugar

pinch of salt
Method – Cheesecake Ice Cream


1. Put the pieces of cream cheese in a blender or food processor. Add the lemon zest, sour cream, half-and-half, sugar, and salt, and purée until smooth.


2. Chill the mixture in the fridge for at least 4 hours. 


3. Freeze the mixture in an ice cream maker according to the manufacturer's instructions.


Ingredients – Blueberry Sauce
2 cups of blueberries; fresh or frozen

1/4 cup of white sugar

1 and 1/2 teaspoons of cornstarch

1 tablespoon of freshly squeezed lemon juice
Method – Blueberry Sauce


1. In a medium saucepan, heat the blueberries and sugar until the berries begin to release their juices.


2. Mix the cornstarch with the cold water and lemon juice until lump free. Then stir into the blueberry mixture.


3. Bring the blueberry sauce to a boil, then reduce heat to a simmer and cook for 1 minute. Remove from heat and allow to cool to room temperature. 


Sauce can be stored into the fridge for up to 3 days.


Finishing Touch: layer the softened cheesecake ice cream with the blueberry sauce. Freeze. Serve with a sprinkle of graham cracker crumbs. Enjoy!


Source: The Perfect Scoop by David Lebovitz