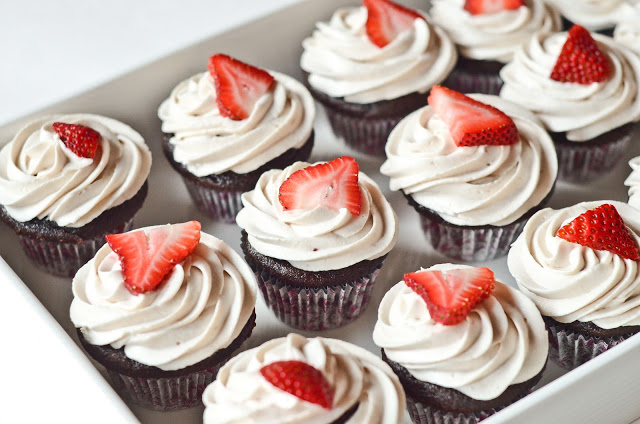 Last night, many of my closest friends came out to help me celebrate my birthday. I decided that it would be fun if we all had a BBQ outside on the patio. And it turned out to be a great idea! It was a lot of fun. It was so wonderful to see so many people that I care about. And, yesterday, the weather was beautiful. Bright blue sky and very warm (a bit too warm for a while! *hah*). We've been getting a lot of rain as of late, so I was worried the BBQ was going to be 15 of us sitting in the rain. Thankfully we lucked out and had a beautiful evening for a BBQ. And to end the night, we all wandered over to the Jazz Festival that is happening downtown this week and listened to some great music while lounging out on the grass. The Born Ruffians played last night; one of my favourite bands. Check them out!
I made these strawberry chocolate cupcakes for everyone to say thank you for coming out. I had such a craving for cupcakes with fresh berries this week. I could not decide between chocolate strawberry or lemon blueberry. The chocolate strawberry won out last night, but I think I'll be making a batch of lemon blueberry very soon to take advantage of all the fresh berries in the store right now. *sigh* I love summer!!!
Cupcake Ingredients
3/4 cup of unsweetened cocoa powder

1 and 1/2 cups of all-purpose flour

1 and 1/2 cups of white sugar

1 and 1/2 teaspoons of baking soda

3/4 teaspoon of baking powder

3/4 teaspoon of salt

2 large eggs

3/4 cup of warm water

3 tablespoons of canola oil

3/4 cup of buttermilk

1 teaspoon of pure vanilla extract
Frosting Ingredients
1-8 oz package of cream cheese
2 cups of cold whipping cream
5 tablespoons of seedless strawberry jam
1 tablespoon of pure vanilla extract
1 cup of icing sugar
1. Preheat oven to 350°. Line standard muffin tins with paper liners.
2. Sift cocoa powder, flour, sugar, baking soda, baking powder, and salt into a large bowl. Add eggs, warm water, buttermilk, oil, and vanilla, and mix until smooth with an electric mixer (about 3 minutes).
3. Divide batter among muffin cups, filling each 2/3 full. Bake until tops spring back when touched, about 20 minutes. Transfer cupcakes to wire racks, and let cool. Cupcakes will keep, covered, for up to 3 days.
4. Make the whipped cream. Whip 2 cups of whipping cream (35% M.F) on high until you achieve soft peaks. I used my stand mixer and it took about 4 minutes to get to the soft peak stage.
5. To make the frosting, whip the cream cheese until light and fluffy (about 2 minutes at medium to high speed). Add the vanilla and whip thoroughly. Add the strawberry jam (make sure it is seedless!) and whip until well combined. While the mixer is on low, add the icing sugar gradually. Once icing sugar is well combined, fold in the whipped cream by hand.
5. Frost cupcakes as desired. Decorate the top of the cupcakes with bittersweet chocolate curls and sliced fresh strawberries. Note: if you want frosting that is a bit more vibrant, feel free to add some gel paste icing tint.
Sources
Chocolate Cupcakes recipe by Martha Stewart 
Strawberry Frosting recipe by Courtney Jones