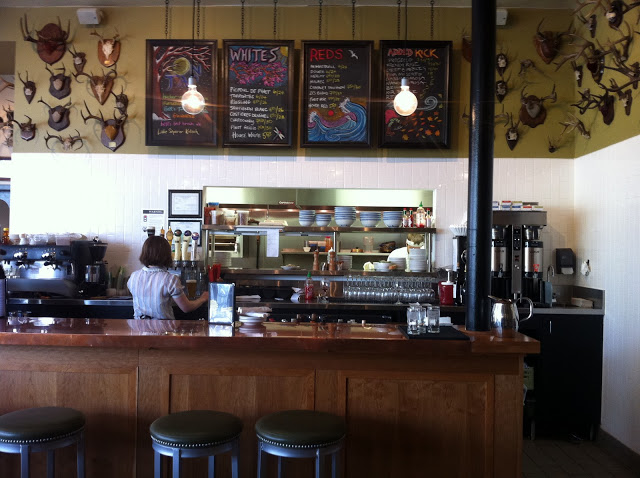 This past weekend, my boyfriend and I drove all the way to Minneapolis, Minnesota for a mini-vacation. One of my very favourite parts of vacations & travelling is getting to try new restaurants and new/exciting foods. A good friend of mine,
Serena
, suggested we check out one of her favourite restaurants in Minneapolis –
The Blackbird Cafe
. Since I value her opinion a great deal, it was the first place we stopped for some food. And she did not lead me astray. The food was wonderful and the atmosphere lovely. I was incredibly impressed when I walked in, not only on the welcoming vintage decor, but also by the fact that they were playing the Weakerthans; one of my all-time favourite bands. We arrived around 2PM on Monday and happy hour was just starting. I ordered a delicious peach mimosa and a fantastic veggie burger. The patty was made with brown rice, black beans, wild rice and sour cherries. It was covered in provolone cheese and served on a bed of tortilla chips with a side of homemade guacamole and mango salsa. Delicious! My boyfriend ended up having a spicy oriental noodle bowl with deep-fried tofu. He said it was fantastic. We will definitely be checking out the Blackbird Cafe again in the future when we visit Minneapolis next. If you are in the Minneapolis/St.Paul area, I definitely recommend you check out the new Blackbird Cafe – 3800 Nicollet Avenue.
Check out the neat decor at the café. I loved the antique mirrors lining the walls. I also loved the plastic deer that lined the wainscotting. Very cute! I also liked how open and bright the restaurant was. The staff was extremely friendly and the atmosphere had a very fun, vintage feel to it.