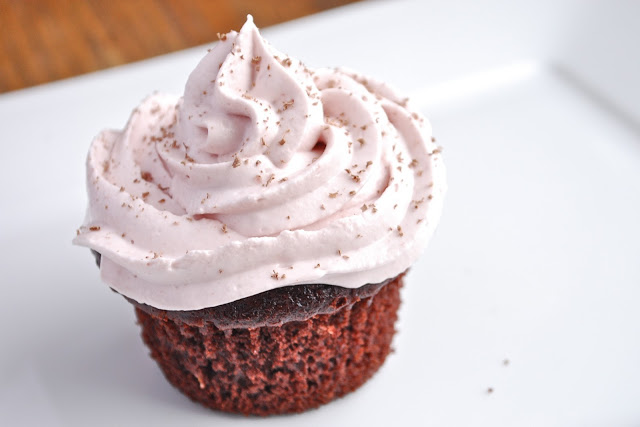 I love the combination of chocolate & raspberries. So, when I was asked to make some cupcakes for a local fundraiser recently, I decided to be a bit selfish and make my very favourite flavour. Since I had to make 72 cupcakes for the fundraiser (and had already used almost every clean bowl in the kitchen), I opted for this one-bowl chocolate cupcake recipe I found on the Martha Stewart website. It was so easy! Since the other cupcakes I had made for the fundraiser (Chocolate Chip Cookie Dough Cupcakes & Pineapple Coconut Cupcakes) were so rich, I wanted to make a light frosting for the chocolate cupcakes. So, I came up with a really light & fluffy raspberry cream cheese frosting that was pretty darn 
tasty :) 
3/4 cup unsweetened cocoa powder
1 1/2 cups all-purpose flour
1 1/2 cups sugar
1 1/2 teaspoons baking soda
3/4 teaspoon baking powder
3/4 teaspoon salt
2 large eggs
3/4 cup warm water
3/4 cup buttermilk
3 tablespoons canola oil
1 teaspoon pure vanilla extract
1-8 ounce block of low-fat cream cheese; at room temperature
4 tablespoons of seedless raspberry jam
1 teaspoon of pure vanilla extract
1 cup of icing sugar/confectioner's sugar
1 tub of Cool-Whip whipped topping
bittersweet chocolate shavings
1. Preheat oven to 350°. Line standard muffin tins with paper liners.
2. Sift cocoa powder, flour, sugar, baking soda, baking powder, and salt into a large bowl. Add eggs, warm water, buttermilk, oil, and vanilla, and mix until smooth.
3. Divide batter among muffin cups, filling each 2/3 full. Bake until tops spring back when touched, about 20 minutes. Transfer cupcakes to wire racks, and let cool. Cupcakes will keep, covered, for up to 3 days.
4. To make the frosting, whip the cream cheese until light and fluffy (about 2 minutes at medium to high speed). Add the vanilla and whip thoroughly. Add the raspberry jam (make sure it is seedless!) and whip until well combined. While the mixer is on low, add the icing sugar gradually. Once icing sugar is well combined, fold the whipped topping into the raspberry mixture. 
5. Frost cupcakes as desired. Decorate the top of the cupcakes with bittersweet chocolate curls.
Sources
Chocolate Cupcakes by Martha Stewart 
Raspberry Frosting by Courtney Jones