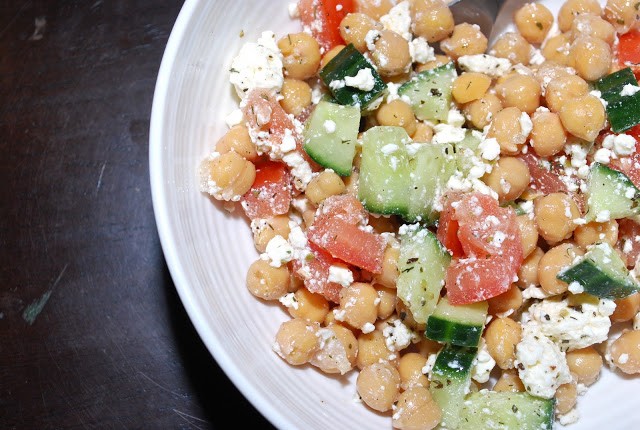 This is the perfect salad to take to work for lunch. It is not only filling with a ton of protein, veggies and fibre….but it is also extremely delicious and easy to make. It also makes for a nice salad to bring to a summer BBQ or picnic. 
Ingredients
1-19 ounce can of chickpeas; rinsed

an assortment of chopped vegetables such as red onion, red & yellow pepper, tomatoes, cucumbers, celery, carrots, green onions, leeks, edamame

3/4 cup of crumbled feta cheese

2 tablespoons of olive oil

1/8 cup of fresh lemon juice (about half a lemon)

1 teaspoon of dried oregano

1/2 teaspoon of dried mint

salt and pepper to taste
Method
1. Combine the chickpeas and chopped vegetables in a bowl.
2. Squeeze lemon over the vegetables. Drizzle with olive oil.
3. Sprinkle oregano, mint, salt and pepper on top.
Note: this develops more flavour if you let the salad sit in the fridge for about 30 minutes.