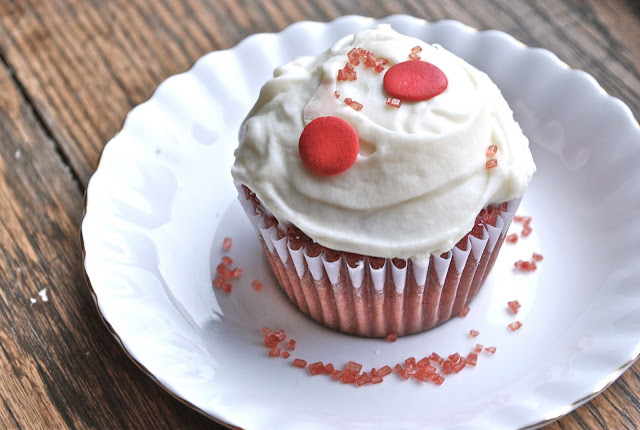 After a brief hiatus from a recent move to a new home (and new kitchen!), I am back…with a recipe for red velvet cupcakes! I've never had red velvet anything before, but have been wanting to try red velvet cake for a long time. So, in honour of Valentine's Day, I made a batch of red velvet cupcakes and brought them to work yesterday to share with my wonderful co-workers. Everyone seemed to love them, including me!
Happy Valentine's Day everyone!
Ingredients
2 and 1/2 cups of cake flour

1 and 1/2 cups of sugar

1 teaspoon of baking soda

1 tablespoon of cocoa powder

1 teaspoon of salt

2 large eggs

1 and 1/2 cups of vegetable or canola oil

1 cup of buttermilk

1 tablespoon of liquid red food colouring

1 teaspoon of pure vanilla extract

1 teaspoon of white vinegar
1 block of cream cheese (8 oz) at room temperature

5 tablespoons of unsalted butter at room temperature

2 teaspoons of pure vanilla extract

2 and 1/2 cups of icing sugar
Method
1. Preheat oven to 350'F. Line cupcake pans with paper liners.
2. In a medium bowl, combine the cake flour, sugar, baking soda, cocoa powder and salt; whisk to blend.
3. In a bowl of an electric mixer, combine the eggs, oil, buttermilk, food colouring, vanilla and vinegar. Beat on medium speed until well blended. Mix in the dry ingredients on low speed and beat until smooth (about 2 minutes).
4. Divide the batter evenly between the prepared liners (approx 2/3 full). Bake, rotating the pans halfway through baking, until a toothpick inserted in the centre comes out clean (about 18 minutes). Let cool in the pan for 5 to 10 minutes and then transfer to a wire rack to cool completely.
5. To make the frosting, combine the cream cheese and butter with an electric mixer. Beat on medium-high speed until well combined and smooth (about 2-3 minutes). Note: ensure you use room temperature cream cheese and butter, or you'll have lumps in your icing. 
6. Mix in the vanilla extract. Gradually beat in the confectioner's sugar until totally incorporated, increase the speed and then beat until smooth.
7. Frost the cooled cupcakes as desired.
Tip: if you do not have any buttermilk at home, you can easily make some! Simply put 1 tablespoon of white vinegar in a liquid measuring cup. Then add milk until the liquids reach the 1 cup mark. Let sit on the counter for 10 minutes and TA-DA…you have buttermilk!
Source: Annie's Eats (adapted from Confections of a Foodie Bride)