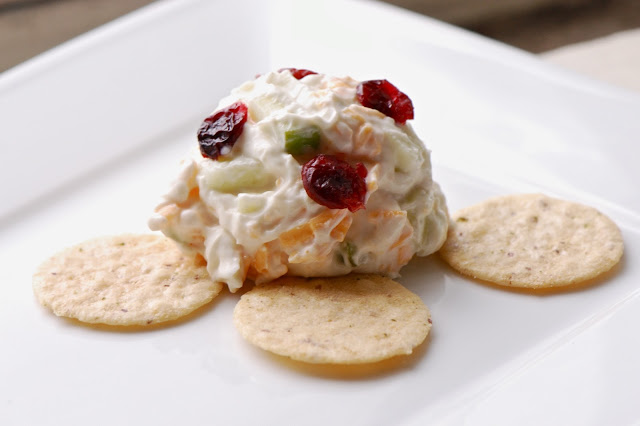 My mom has a knack for finding extremely tasty yet easy recipes. And this is one of her most recent finds. She served this dip during a football watching party last weekend. It went over extremely well. I don't think there was any dip left by the end of the first quarter! I like this dip because it incorporates apples and cheese; which seem to have been made for one another. The green apple combined with the sharp cheese, sweet cranberries and creamy base made for an extremely delicious appetizer for our football party. And come to think of it…with the green apple, white coloured base and red cranberries…this would make for a perfect Christmas appetizer.
Ingredients
1 and a half cups of sharp cheddar cheese; shredded

1/3 cup of cream cheese at room temperature

3 tablespoons of sour cream

1/4 teaspoon of salt

1/4 teaspoon of pepper

1/4 cup of green Granny Smith apple; chopped with peel on

1/2 teaspoon of fresh lemon juice

2 teaspoons of fresh parsley; chopped

1/4 cup of chopped dried cranberries
Method
With a mixer, whip the cream cheese and sour cream until smooth.

Add salt and pepper and mix well.

Toss the apples in the lemon juice (to prevent from browning).

Add the apples, cheddar cheese, parsley and cranberries to the mixture.

Cover and chill before serving.
Serve with raw veggies, pita chips, tortillas chips or fancy crackers.
Source: Our Compliments Holiday Edition 2010