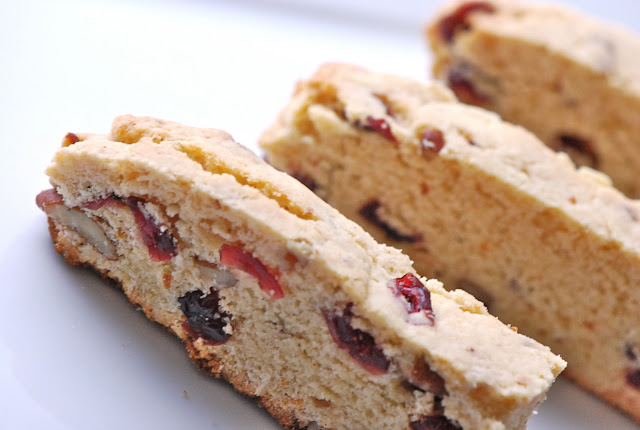 For some reason, I always thought it would be difficult to make biscotti. I anticipated that I would struggle with the mixing the dough, then shaping the dough and then eventually burning the finished product. *hah* Lately, I've been going through a lot of cookbooks and cooking magazines trying to plan my Christmas baking list. Almost all of the cookbooks I looked through had a recipe for a "christmas biscotti". And the recipes seem quite easy! I had to put it to the test and see for myself. The Christmas Biscotti DID look delicious. Cranberries, cinnamon, pistachios…mmmm!!!
And since I am an avid tea drinker & a fanatical cookie dunker….I had to give this recipe a try. 
I have to say the biscotti turned out great! The dough was extremely easy to work with. They baked until golden & developed a hard crumb without burning. And they have a ton of flavour. The cinnamon and orange zest were perfect. Definitely dipping worthy! And they look pretty darn festive with the red cranberries and green pistachios. I realized after I took this photo that I forgot to drizzle white chocolate or icing sugar with milk on them. That would have completed the biscotti quite nicely. 
Happy December 1st everyone! :)
Ingredients
1/3 cup of butter, softened

2/3 cup of sugar

2 teaspoons of baking powder

1/4 teaspoon of salt

1/2 teaspoon of cinnamon

1/4 teaspoon of ground nutmeg

2 eggs

1 teaspoon of vanilla

1/2 teaspoon of rum flavouring

2 cups of all-purpose flour

2 teaspoons of finely shredded orange peel

1/2 cup of pistachios, chopped

1/2 cup of dried cranberries, chopped

1 cup of icing sugar

1-2 tablespoons of milk
Method
Preheat oven to 375'F. Line a large cookie sheet with parchment paper and set aside.

In a large bowl, beat butter with a mixer on medium to high speed for 30 seconds.  Add the sugar, baking powder, nutmeg, cinnamon and salt. Beat until just combined.

Beat in the eggs, vanilla, rum extract until just combined.

Beat in the flour one cup at a time. If your mixer is having trouble incorporating the flour, you can mix the flour in with a wooden spoon. 

Stir in orange peel, pistachios, and cranberries.

Transfer dough to a lightly floured surface. Divide the dough into three portions. Using lightly floured hands, shape each portion into an 8-inch long loaf. Place loaves 3 to 4 inches apart on the parchment paper covered sheet. Flatten the loaves slightly, so they are 2 inches wide.

Bake in the preheated oven for 20 to 25 minutes or until the tops are golden and cracked. Cool on a cookie sheet on a wire rack for 30 minutes.

Reduce the temperate of the oven to 325'F. Transfer the baked loaves onto a cutting board. Using a sharp, sereated knife, cut each loaf diagonally into 1/2 inch thick slices. Place slices, cut side down, on a ungreased cookie sheet. Bake for 8 minutes.

Turn the slices over and bake another 8 minutes (or until dry & crisp).

Transfer pieces to a wire rack and let cool.

Once cooled, you can drizzle with icing sugar icing. (1 cup of icing sugar with 1 to 2 tablespoons of milk to create a drizzling consistency).
You can store the biscotti at room temperature for 3 days, or freeze for up to three months. Make sure to separate each piece with parchment paper if you do freeze them, so they don't freeze together! 
Source: Better Homes and Gardens Magazine (Holiday Baking 2006)