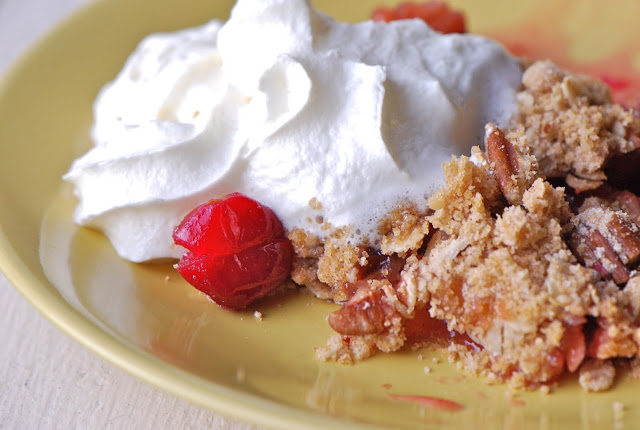 For Christmas, I bought myself a new cookbook called Fresh with Anna Olson. The book has a ton of fantastic recipes categorized by season. Today, I was looking through my new book and noticed that I had all the ingredients for the Apple Cranberry Crisp. And since at Christmas there is a lack of sugar (yeah, right!)…I decided to make the recipe. And it turned out great! The combination of apple, cranberry, cinnamon and sugar was perfect. And the kitchen smelled amazing while it was baking.
Ingredients
1/2 cup of all purpose flour

1/2 cup of rolled oats

1/2 cup of packed dark brown sugar

5 tablespoons of unsalted butter, at room tempertaure

1 teaspoon of cinnamon

pinch of salt

1/2 cup of chopped pecans

4 apples, peeled & cored & sliced into 1/2 inch dice

1 cup of fresh or frozen cranberries

1/3 cup of sugar

zest and juice of one orange
Method
1. Pre-heat oven to 325'F.
2. Grease an 8-inch square baking dish.
3. For the topping, combine flour, oats, sugar, butter, cinnamon and salt in a bowl. Work together with your fingertips until the mixture is crumbly. Stir in the pecans and set aside.
4. For the fruit, toss the apples and cranberries with the sugar, orange zest and juice. (note: I added cinnamon to the apple mixture as well as the topping.)
5. Spoon the fruit mixture into the prepared baking dish and sprinkle with the topping evenly.
6. Bake the crisp until bubbly and the apples are tender (about 30 minutes).
7. Let crisp cool slightly. Serve warm with some vanilla ice cream or whipping cream.