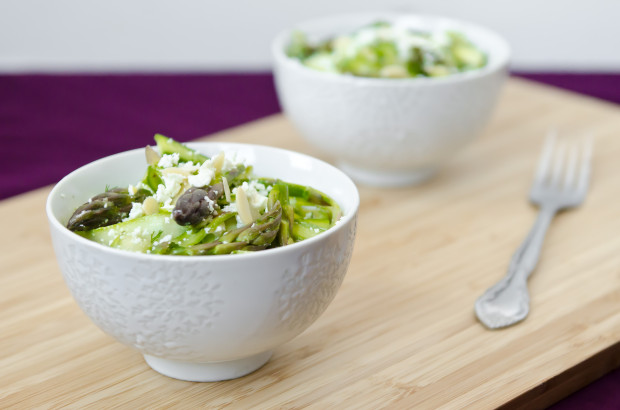 It's asparagus season! And it's a four-day weekend! Life is good. I am really looking forward to this Easter weekend. First, I can sleep in for four days in a row. That's always worth celebrating! And after 2 months of no chocolate or sugar (see – elimination diet), I'll finally be able to partake in dessert. Om nom nom.
This weekend, we will also be attending two family dinners. I have been asked to bring the vegetarian entrées to both Easter dinners, as well as a salad to my grandma's house on Sunday. Over the past week, I've spent a lot of time thinking about what to make. I'm still trying to narrow down what I will bring entrée-wise, but I have decided on bringing this salad Sunday. I think asparagus is just oh-so pretty. I love the colours – such a vibrant green with lovely shades of purple. And it tastes pretty darn good too.
Asparagus ribbons are the perfect way to enjoy raw asparagus. The dressing is made of bright flavours that remind me of spring- lemon, fresh dill, and tangy dijon mustard. This salad is really simple, light and refreshing. A wonderful way to balance out the heavier foods commonly consumed at Easter. Feel free to change this salad up to reflect your own personal tastes with different herbs (basil, mint), cheeses (parmesan, goat cheese) and nuts (pistachios, pine nuts).
Wishing you all a lovely Easter weekend.
Ingredients
1 pound of asparagus, well-rinsed
juice of a medium lemon
1/4 cup of olive oil
1 teaspoon of dijon mustard
1 teaspoon of honey or agave
1 teaspoon of fresh chopped dill
salt and pepper to taste
1/4 cup of sliced almonds
1/3 cup of crumbled feta cheese (optional)
Method
1. Cut the woody ends of the asparagus off and discard.
2. With a vegetale peeler, peel each asparagus spear into thin, long strips (or ribbons). Blot the asparagus ribbons with a paper towel to remove some of the moisture. Place ribbons in a large salad bowl.
3. Whisk together the lemon juice, olive oil, dijon mustard, honey, salt, pepper and fresh dill. Pour the dressing over the asparagus ribbons and toss well to coat evenly. Note: In order to prevent overdressing the salad, I add half of the dressing to start and add more as required.
4. Crumble feta cheese overtop of the salad if using followed by the sliced almonds. Allow the salad to sit for 5 minutes for flavours to develop.
Yield: 4 servings
Source: The Fig Tree