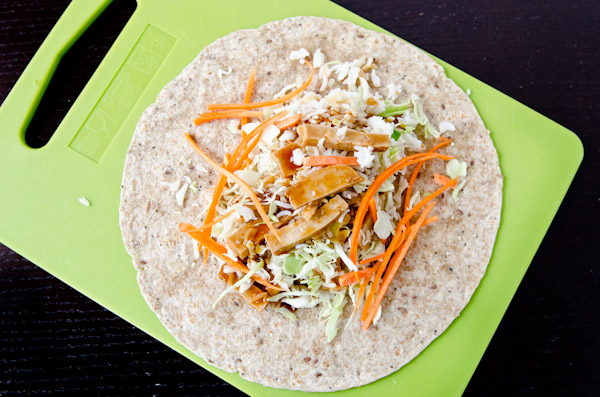 Greetings from Wales! We are having a fantastic time exploring England and visiting my relatives in Wales. We've seen Big Ben, the Tower Bridge, shopped Oxford Street, enjoyed dinner at Covent Garden and had high tea complete with scones, clotted cream and strawberry preserves. Delicious! Our trip is coming to a close and then I will be back with a more regular blogging schedule. :)
I had scheduled this post for while I was gone. but I seemed to have made an error – as it did not remotely post! Oopsie! My apologies! So, without further ado – teriyaki tofu wraps with macadamia garlic spread. These delicious wraps are filled with crunchy veggies, savoury macadamia spread, baked teriyaki tofu and ginger seasoned jasmine rice. They are perfect to bring for lunches or as a light main course meal.
Cheerio!
Teriyaki Tofu Wraps with Macadamia Spread
Ingredients
1 block of pressed tofu
1/2 cup of teriyaki sauce
seasoned rice
Macadamia garlic spread
6-12 inch whole grain or spinach tortillas
Shredded carrots
Shredded cabbage
1/4 cup of teriyaki sauce reserved for garnish
1 cup of jasmine rice
1 tablespoon of fresh grated ginger
Handful of fresh cilantro, chopped
1 tablespoon of rice wine vinegar
1 tablespoon of mirin
1 head of garlic, peeled with top cut off
Olive oil
Salt and pepper to taste
1/2 cup toasted macadamia nuts
Method
Preheat oven to 350'F. Cut the top off an entire head of garlic. Place garlic on tin foil, drizzle with a bit of olive oil and season with salt and pepper. Fold tin foil over garlic and place in oven. Allow garlic to roast for about 30 minutes. After 30 minutes, add a parchment covered baking sheet with macadamia nuts to the oven. Toast macadamia nuts for 5 minutes while garlic roasts a final 5 minutes as well.
While garlic is roasting for 30 minutes, you can bake the teriyaki tofu as well. Cut the pressed tofu into 1/4 inch slabs. Place tofu pieces in a baking dish. Cover tofu with teriyaki sauce. Bake for 25 minutes next to the roasting garlic.
Bring 1 cup of rice and 2 cups of water to a boil, then reduce to a simmer. Cook on low, covered, for 15 minutes. Remove from heat and allow it to sit another 10 minutes to absorb the last of the water. Once rice is cooked and cooled slightly, add the grated ginger, chopped cilantro, rice wine vinegar and mirin. Mix well.
Purée the roasted garlic and toasted macadamia nuts into a paste with a blender or food processor.
Cut baked tofu into pieces.
Assemble Wrap - place a tortilla on a cutting board. Spread with some macadamia garlic spread followed by some seasoned rice down the middle. Top with baked tofu slices, shredded carrots, cabbage and a drizzle of remaining teriyaki sauce. Roll tortilla as you would a wrap. Repeat with remaining tortillas.
Notes
Source: Cafe Flora Cookbook