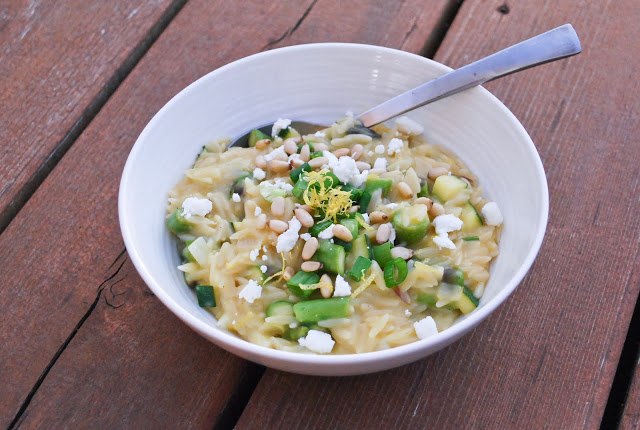 A true risotto is generally quite time consuming to make. You have to slowly cook risotto rice (arborio generally) while slowing adding liquids such as a vegetable stock until the rice releases its starch and a nice creamy "sauce" is created naturally. Although, the outcome is always delicious, this process often takes 20 to 30 minutes of constant stirring and attention. And who has that kind of time!? *hah* Especially when the weather is nice! 
Today, while looking through some spring inspired recipes, I stumbled upon an orzo risotto. I was intrigued! The recipe promised to be quick and easy; quite unlike most risotto recipes! I was skeptical to make it, however, as I was not sure orzo pasta would allow for the same creaminess that arborio rice would. However, I was happy to find that the orzo pasta softened up a lot quicker than arborio rice and was just as creamy as a regular risotto. The asparagus and zucchini were delicious; infused with a bit of lemon zest and mint. The pint nuts, chives and goat cheese were the perfect way to finish off this risotto. It's a simple dish with many layers of flavours. A perfect way to showcase the wonderful flavours of the spring: chives, asparagus and lemon. Bon Appétit! :)
Ingredients
2 tablespoons of olive oil

1 cup of onion; finely diced

1/2 cup of celery; finely diced

1 and 1/3 cups of orzo; uncooked

1 cup of white wine

2 teaspoons of fresh grated lemon zest

2 and 1/2 cups of vegetable stock

12 asparagus spears; cut into 1-inch pieces

1 small zucchini; diced

2 tablespoons of fresh mint; chopped

2 tablespoons of fresh chives; chopped

1/2 cup of parmesan cheese; grated

salt and pepper

2 tablespoons of butter

3 ounces of goat cheese; crumbled

2 tablespoons of pine nuts (optional)
Method
1. Heat the olive oil in a large heavy-bottomed sauté pan over medium heat and add the onions and celery. Sauté until translucent (approx. 5 minutes).
2. Add the uncooked orzo pasta and stir to allow each grain of pasta to be coated in oil. 
3. Add the white wine and lemon zest and cook, stirring with a wooden spoon, until all the wine has evaporated. The orzo pasta will release its starch and create a nice creamy sauce of sorts (just like arborio rice when making a true risotto).
4. Add the vegetable stock, 1 cup at a time, stirring until the liquid is absorbed after each addition. Add the asparagus and zucchini in with the last addition of stock.
5. When the pasta is al dente (after about 10 minutes of simmering), stir in the mint, chives and parmesan cheese. Season with salt and pepper.
6. Stir in the butter and allow to melt. Spoon pasta into bowls and crumble the goat cheese on top. Sprinkle with pine nuts if desired.
Source: adapted from Anna Olson's New Ways with the Classics