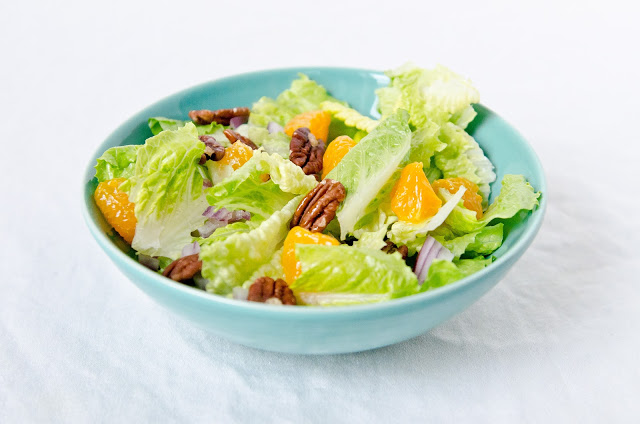 Things have been pretty slow over here on The Fig Tree over the past few weeks. My apologies! However, the semi-hiatus has been for a good reason! I'm in the middle of making some big changes to the blog. My focus has been more on blog design these days rather than actual recipe development. Thankfully, I should finally debut the new + improved Fig Tree and resume a regular posting schedule by the end of January. So excited for the changes to go live! 
In the meantime, here is one of my favourite salad recipes. It's a salad that my mom frequently makes throughout the summer. I realize, in most parts of the world, it's FAR from being summer. But after we had a blizzard here on Friday, I needed something summery to keep my spirits up. This salad was perfect. The citrus was nice and refreshing. The romaine was perfectly crisp. And you cannot go wrong with toasted pecans. :)
Hope you all have a fantastic week. xo
Ingredients
1/4 cup of white sugar

1/4 cup of white vinegar

1/2 cup of canola oil

1 teaspoon of salt

pepper to taste

1/2 teaspoon of dry mustard

1 tablespoon of water

1/4 of a small red onion, chopped

mandarin orange; supremed (or canned mandarin oranges in juice)

3/4 cup of pecans; toasted

4 to 6 cups of romaine lettuce, torn into bite sized pieces
Method
1. Combine the sugar, vinegar, canola oil, salt, pepper, dry mustard and water in a small bowl. Allow the dressing to sit for at least 30 minutes to develop flavour. 
2. In a large salad bowl, toss together the romaine lettuce, red onion, pecans and mandarin orange segments.
3. Drizzle half of the dressing over the salad, adding more if required. Toss well and serve. 
Note: Leftover dressing lasts up to a week in the fridge.
Yield: 4 to 6 servings of salad
Source: Mom; original source unknown