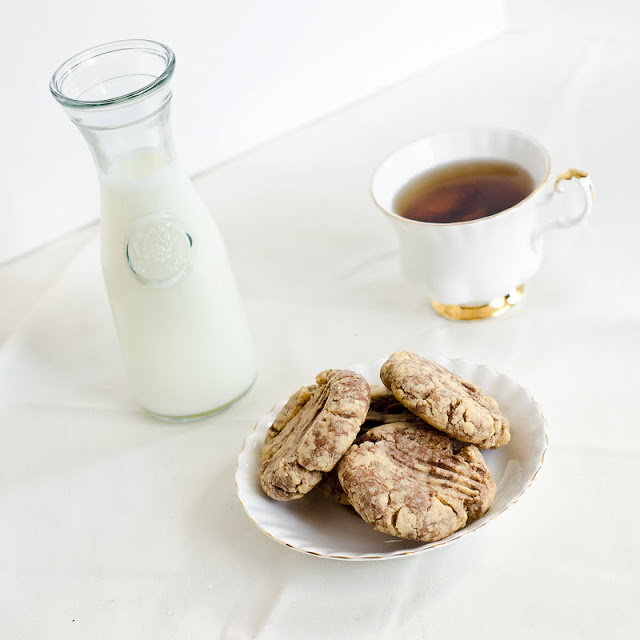 And so continues my obsession with cookies. This week I made peanut butter cookies with Nutella swirled into the dough. And they were GOOD. Adding the swirl of Nutella into the dough made the finished product taste like a fancy peanut butter cup. And I love peanut butter cups! I brought a batch of these cookies to work to share during an over time shift this week, and they were a real hit. 
Hope you are having a great weekend. The weather here is fantastic and the snow is quickly melting. It's a bright & sunny day. Spring is definitely on its way! 
Ingredients
1 and 3/4 cups of all-purpose flour

3/4 teaspoon of baking soda

1/4 teaspoon of salt

1/2 cup (1 stick) of unsalted butter; at room temperature

3/4 cup of smooth peanut butter

1/2 cup of white granulated sugar

1/2 cup of light brown sugar; firmly packed

1 room temperature egg

1/2 teaspoon of pure vanilla extract

1/2 cup of Nutella; stirred to soften


Method
1. In a large mixing bowl, whisk together the flour, baking soda and salt. Set aside.
2. In a separate large mixing bowl, combine the butter, peanut butter and both sugars. Beat on medium speed until creamy and smooth (about 5 minutes). Add the egg and vanilla extract. Beat to combine; scraping down the sides of the bowl as necessary.
3. Turn the mixer down to low speed and slowly add the dry ingredients. Beat until just combined. Using a large wooden spoon or spatula, gently fold in the softened Nutella. You want to have a distinct swirl, so do not over mix the Nutella. Cover the bowl and refrigerate for at least 3 hours (or overnight).
4. Preheat the oven to 350'F. Line baking sheet with parchment paper. Measure out a rounded tablespoon for each cookie. Cookies can be placed about 1/2 inch apart on the cookie sheets, as they should not spread too much in the oven. Using a fork, make a criss-cross patter on each cookie. If desired, sprinkle with a tiny bit of sea salt. Bake for 8 to 9 minutes. All the cookies to cool on the sheets for 2 minutes before transferring them to a cooling rack.
Yield: about 35 cookies
Source: Une Gamine dans la Cuisine