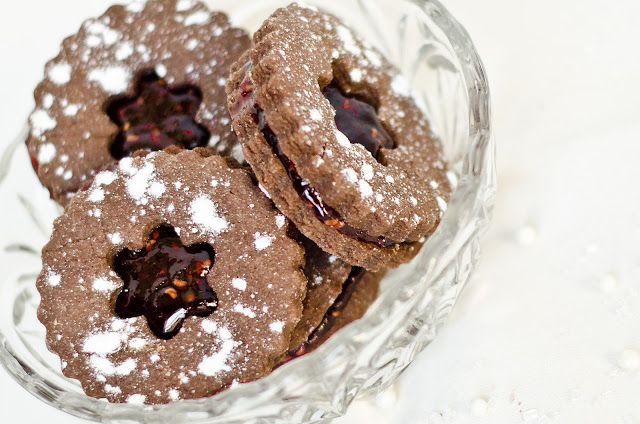 Valentine's Day is approaching very quickly. Honestly, it still feels like it was JUST Christmas! How is Valentine's Day a day away? Yikes! I normally don't like to buy my family any Valentine's Day gifts or treats from the store. There is something about home made Valentine's Day treats that are so much more meaningful & special. Last year, I made my family Red Velvet Cupcakes and the year before, I made them a Strawberry Chocolate Truffle Tart (still one of my most favourite desserts ever). This year I decided to make my loved ones these delicious Chocolate Raspberry Sandwich Cookies. I have to admit, it was a bit selfish…as chocolate & raspberry is MY favourite flavour combination. *hehe* Ah well, it's the thought that counts, right? :P
If you are looking for some delicious treats to make your family & friends this Valentine's Day, here are a few ideas:
Ingredients
3/4 cup of unsalted butter; softened

1 cup of granulated sugar

1 egg

1 teaspoon of pure vanilla extract

2 and 1/4 cups of all-purpose flour

1/3 cup cocoa powder

1/2 teaspoon of baking powder

1/4 teaspoon of salt

confectioner's sugar (icing sugar)

raspberry jam (or favourite jam)
Method
1. Line 2 rimless baking sheets with parchment paper and set aside. Preheat oven to 350'F.
2. In a large bowl, beat the butter and sugar until fluffy. Beat in the egg and the vanilla.
3. In a separate bowl, whisk together the flour, cocoa powder, baking powder and salt until no streaks remain.
4. Stir flour mixture into the butter mixture in 2 additions until you have a nice, smooth dough. Divide the dough in half and flatten into discs. Wrap each disc and refrigerate until firm (about an hour). Note: you can refrigerate the dough for up to 1 day.
5. On a lightly floured surface, roll out each disc to 1/4 inch (5mm) thickness. Using a floured 2 inch round fluted cutter, cut dough into rounds. If you would like to make sandwich cookies as pictured above, using a mini cookie cutter, cut a small shape in the middle of half the cookies. Place the cookies 1 inch (2.5 cm) apart on prepared baking sheets. Refrigerate for about 30 minutes or until cookies are firm.
6. Bake in top and bottom thirds of the oven, rotating and switching pans halfway through baking. Bake until edges begin to darken (about 12 minutes). Transfer to a cooling rack and allow cookies to cool fully.
7. To decorate, sprinkle icing sugar (confectioner's sugar) over the cookies with the shapes cut out in the middles. Then spread raspberry jam on the tops of the remaining cookies. Top each jam topped cookie with a cut-out cookie. Serve to your loved ones for Valentine's Day :)
Yields 48 cookies
Source: Canadian Living: The Complete Canadian Living Baking Book