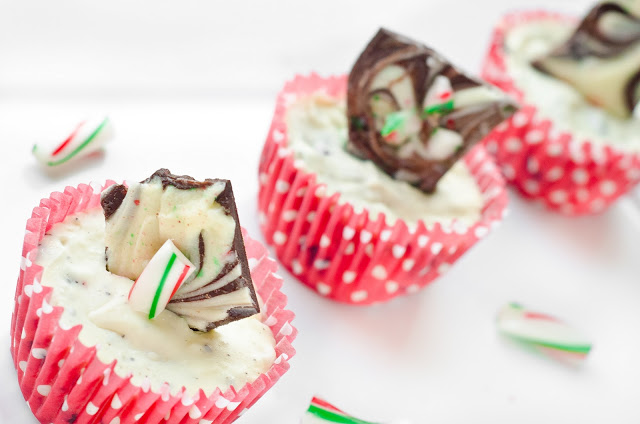 Wow, I cannot believe that we are only 2 weeks until Christmas Eve! December has flown by, and I've fallen behind on my Christmas baking! *hah* There have been so many other Christmas related things to do such as shopping, parties and Christmas movie watching! Oh man….Elf always makes me giggle. Normally, I have my tree up by December 1st, but that's been put on hold as well. My focus this weekend will be to decorate the condo, put up the tree and catch up on some baking. I hope to make some gingerbread cookies and possibly some chocolate raspberry linzer cookies. How's your Christmas baking coming along?
This week I organized my work Christmas lunch. We had our lunch at a fantastic restaurant in town called Pizzeria Gusto. The food was delicious!!! The best pizza crust in town by far. As a treat for everyone on my team, I made these mini cheesecakes and eggnog cupcakes (recipe to be posted on Sunday) for dessert. The mini cheesecakes were definitely the winning treat of the day. I was asked to share my recipe immediately by a few co-workers…so here we go! :) Hope you get the chance to enjoy these creamy & delicious minty mini cheesecakes this Christmas season.
Oh! And before I forget…please be sure to enter The Fig Tree's first giveaway (in honour of the Christmas season). Simply check out my post Merry Christmas with Music from Meaghan Smith & leave a comment about your favourite Christmas song. Draw will be on Wednesday, December 14th. Be sure to check back for the winner! :)
Ingredients
42 cream-filled chocolate sandwich cookies (such as Oreos)

2 pounds of cream cheese; at room temperature

1 cup of granulated white sugar

1 teaspoon of peppermint extract

4 large eggs; at room temperature

1 cup of sour cream

pinch of salt

garnish: peppermint chocolate christmas bark
Note: makes 30 mini cheesecakes
Peppermint chocolate christmas bark recipe to be posted this week!
Method
1. Preheat oven to 275'F. Line standard muffin tins with paper liners. Place 1 whole cookie in the bottom of each cup.
2. Chop the remaining cookies coarsely and set aside.
3. With an electric mixer on medium-high speed, beat the cream cheese until smooth. Make sure the scrape the sides of the bowl down frequently to prevent lumps. Gradually add the sugar; beat until well combined. Beat in the peppermint extract.
4. Combine the eggs in a small bowl. Drizzle the eggs into the cream cheese mixture a bit a a time, beating to combine. Scrape sides of bowl as needed. Beat in the sour cream and pinch of salt. 
5. Stir in the chopped cookies by hand.
6. Divide the batter evenly among the cookie-filled cups, filling each almost to the top. Bake, rotating tins halfway through, until filling is set (about 22 minutes). The cheesecakes will be firm, but still jiggly. 
7. Transfer tins to wire racks to cool completely. Refrigerate in tins at least 4 hours (or overnight) to allow the mini cheesecakes to set. Note: cheesecake is a form of custard and needs this time in the fridge to firm up, but stay creamy in the middle. Remove the cheesecakes from the tins right before serving. Garnish as desired. Peppermint bark worked really nicely with these mini cheesecakes.
Source: based on a recipe by Martha Stewart