A friend of mine, Julia, posts the most delicious looking photos on Facebook. Very drool worthy! She adores cooking & baking just as much as I do. And she is always making the neatest treats! I asked her if she would mind doing a guest post on The Fig Tree and she thankfully said yes! So, without further ado, here is Julia's post on S'mores Cupcakes! They look delicious! I am definitely going to try this recipe out in the next few weeks. If you'd like to see more of Julia's baking adventures (and some of her scrapbooking adventures too), please check out her blog here. Thanks Julia for sharing this delicious recipe.
Also, if anyone else is interested in doing a guest post on The Fig Tree, please let me know in the comments section of this post. Guest posts are so much fun and I'd love to have more! :) Thanks!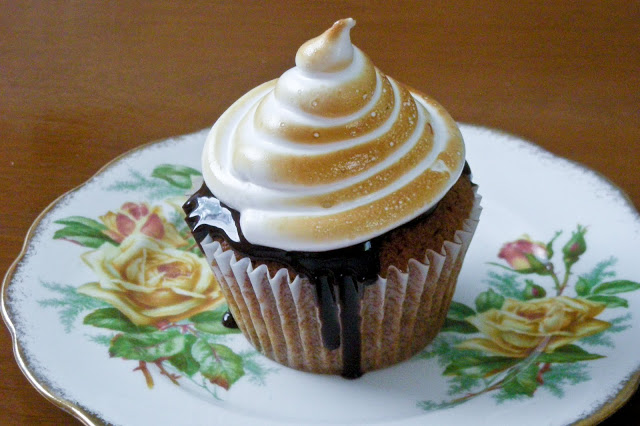 I am a big fan of toasted marshmallows and s'mores – if there is a fire there HAS to be marshmallows! So when I saw that "Martha Stewart's Cupcakes" (highly recommended, great book!) had a recipe for S'mores cupcakes I knew that I needed to make them. I love how easy is is to make impressive looking cupcakes. All you have to do is swirl frosting on top with a pastry bag and even someone as unskilled at decorating can make something gorgeous. These are a bit more involved than your average cupcake, but the results are oh so worth it! Graham cake, chocolate ganache and homemade marshmallow frosting – YUM!

Ingredients – Cupcakes


1 1/2 cups flour
1 1/3 cups graham flour
2 tsp baking powder
1 1/2 tsp salt
1 1/2 tsp cinnamon
1 1/4 cups unsalted butter, room temperature
2 cups brown sugar
1/4 cup honey
6 eggs
2 tsp vanilla

Method – Cupcakes

Preheat oven to 350. Line standard muffin tins with 24 papers. Mix together both flours, baking powder, salt and cinnamon. Cream butter, brown sugar and honey together until pale and fluffy. Beat in eggs and vanilla. Add flour mixture and mix until just combined. Divide batter evenly among the lined cups. Bake 25 minutes, until golden brown and a cake tester inserted in centers comes out with only a few moist crumbs. Cool completely. Spoon 2 tsp chocolate ganache glaze on each cupcake and pipe marshmallow frosting on top with a large plain circle tip. Toast frosting until lightly browned using a small chef's torch.

Ingredients – Chocolate Ganache Glaze



6 ounces semisweet chocolate (I used bittersweet since I didn't have any semisweet on hand)
2/3 cup whipping cream
1 tbsp light corn syrup

Method – Chocolate Ganache Glaze

Bring cream and corn syrup just to a simmer in a small saucepan over medium high heat. Pour over chocolate in a heatproof bowl and let stand without stirring until chocolate begins to melt. Stir until totally combined and mixture is smooth and glossy.

Ingredients – Marshmallow Frosting



1 envelope unflavoured gelatin
1/3 cup plus 1/4 cup cold water
1 cup sugar

Method – Marshmallow Frosting

Sprinkle gelatin over 1/3 cup cold water in a mixing bowl and allow to soften. Meanwhile heat the remaining 1/4 cup water and sugar in a saucepan over medium high heat. Stir until sugar is dissolved, then stop stirring and clip a candy thermometer to your pot. Brush down the sides of the pan with a wet pastry brush to prevent sugar crystals from forming. Boil until the temperature reaches 238F. Remove from heat and add to the softened gelatin. Whisk by hand to cool for 1 minute and then use an electric mixer on medium high speed for 8-10 minutes to whisk until soft glossy peaks form. Use immediately.


Source: Martha Stewart Cupcakes