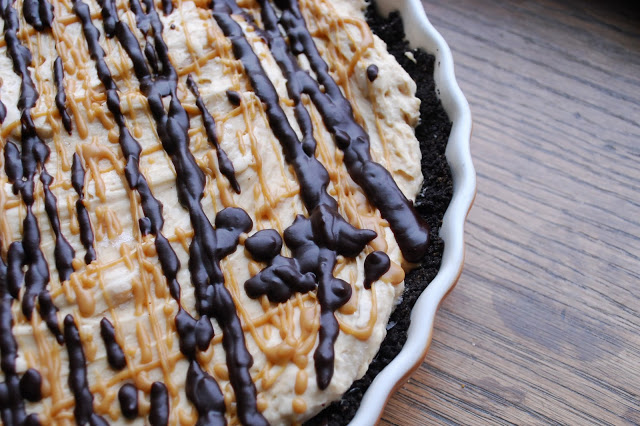 This might be my perfect dessert. I made this recipe this past weekend when I had my family over for dinner. I figure it is a good sign when there is fighting over who gets seconds first. *hah* I love the combination of peanut butter and chocolate, but this dessert takes it to a whole new level. The crust is made with crushed chocolate wafer cookies, butter and brown sugar. It's sweet and crunchy and full of chocolate flavour. Mmmm! And the filling is ah-maz-ing! The peanut butter with the whipped cream makes the filling so light and creamy. You are going to LOVE this :) You're welcome.
Ingredients
1 and 3/4 cups wafer cookie crumbs or oreo crumbs

6 tablespoons of butter; melted

3 tablespoons of dark brown sugar

pinch of salt

6 ounces of cream cheese; room temperature

3/4 cup of icing sugar/confectioner's sugar

1 teaspoon of coarse salt

1 and 1/4 cup of peanut butter

1 tablespoon of pure vanilla extract

2 cups of heavy cream (whipping cream); chilled

1 ounce of semi-sweet chocolate; finely chopped

2 tablespoons of peanut butter
Method
1. Make the crust: preheat the oven to 350'F. In a bowl, combine the wafer crumbs, the butter, the brown sugar and salt. Mix well, so that all the crumbs are moist with the butter. Press the mixture into the bottom and up the sides of a 9 inch pie plate. Refrigerate until firm (about 15 minutes). Then, bake the crust until set (8 minutes). Let cool completely on a wire rack.
2. Make the filing: with an electric mixer on medium speed, beat the cream cheese, icing sugar and salt until fluffy. Beat in the peanut butter and vanilla.
3. In a separate bowl, beat the cream until soft peaks form (about 6 to 8 minutes). Whisk one-third of the whipped cream into the peanut butter mixture, then gently fold in the remaining whipped cream. Spoon the filling into the cooled crust. Freeze, uncovered, for 4 hours (or up to a full day).
4. Garnish the pie: melt chocolate in a heatproof bowl set over (not in) a pan of simmering water (ie. double boiler). (NOTE: I simply used 1/4 cup of chocolate chips and melted them with a teaspoon of water for 20 seconds in the microwave. Be careful not to melt them much longer than 20 seconds or the chocolate will burn.) Transfer the melted chocolate to a resealable plastic bag. Snip the tip from one corner of the bag to make a very small opening. Holding the bag about 5 inches above the pie, drizzle the melted chocolate over top. In a small sauce pan over low heat (or in the microwave), melt the peanut butter. Place in a resealable plastic bag and drizzle in the same manner as the melted chocolate. Let pie stand for 10 minutes before slicing.
Source: Martha Stewart's Pies & Tarts