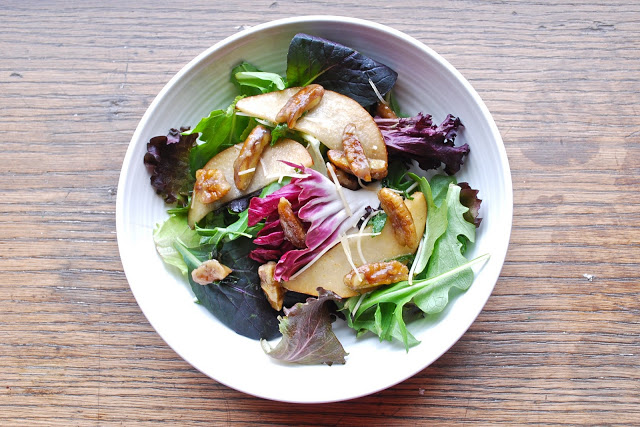 This is my all-time favourite salad. It is the reason I started to like salad in the first place! My mom makes this salad for all special occasions, because it just seems like a really special treat. However, it is quite simple to make! It takes very little time to candy the pecans. And the dressing is really quick. The combination of pure maple syrup, dijon mustard and balsamic vinegar make the vinaigrette unbelievably delicious especially combined with a quality extra-virgin olive oil and a small amount of diced shallot. The pear is sweet, parmesan is salty and the pecans crunchy. In my opinion, this is the perfect salad.
2 tablespoons unsalted butter

2 tablespoons packed light brown sugar

½ cup pecans
1 small shallot, finely diced

1 teaspoon Dijon mustard

2 teaspoons Balsamic Vinegar

¼ cup extra virgin olive oil

2 teaspoons maple syrup

salt and black pepper
1 head endive, separated leaves

2 hearts frisée, hand torn

1 large radicchio, torn leaves

1 red pear, sliced

¼ cup shaved or grated parmesan
***NOTE: In order to save time & money, I normally just buy the "spring mix" at the grocery store which normally contains frisée, romaine, spinach and radicchio***
To make the candied pecans, set a nonstick pan over medium heat. Add the butter and sugar and once it has melted toss in the pecans and continue to toss to coat and cook evenly, about 1 minute. Transfer to a sheet tray lined with waxed paper (I used parchment). Use 2 forks to separate pecans while you prepare the salad.

Make the dressing by combining the chopped shallot, Dijon and balsamic vinegar in a large mixing bowl. Slowly drizzle in the olive oil while you whisk to emulsify. Add the maple syrup and season to taste with salt and pepper.

Assemble salad by tossing greens and pear slices in a large mixing bowl with maple balsamic dressing. Top with shaved Parmesan and candied pecans.
Source: unknown