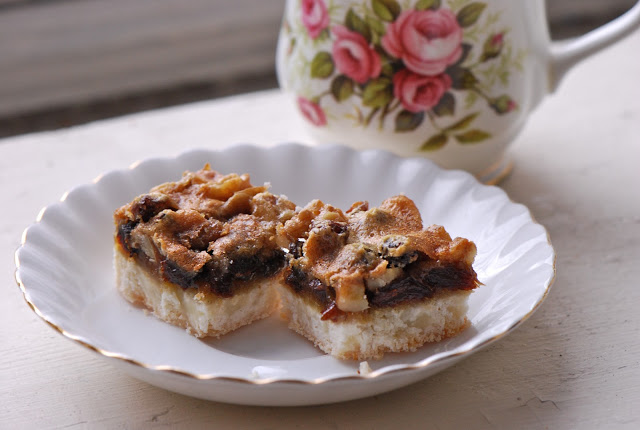 So, for some reason, I have never had any interest in trying a butter tart. I know they are a classic seasonal treat during the Holidays; one that people seem to drool over. Something in the name just turned me off. Like, how much butter is in a butter tart any way!? While at a book club meeting a few months back, the hostess put out homemade butter tarts and everyone was devouring them like crazy. I was intrigued! People appeared to be losing their minds over the butter tarts! So, I finally tried one…and wow….how I been missing out!!! After I finally gave in & tried one and loved it…I decided to make it my mission to try and make them during the Christmas season this year. I recently stumbled upon this recipe in Canadian Living Magazine (Christmas Cookies 2010) and I was inclined to try and make the butter tart in a square form. It is such an easy recipe! And the results were incredibly delicious! 
Ingredients
1 cup (250 mL) all-purpose flour 

1/4 cup (50 mL) granulated sugar 

1/2 cup (125 mL) salted butter 

2 tbsp (25 mL) salted butter, melted 

2 eggs, lightly beaten 

1 cup (250 mL) packed brown sugar 

2 tbsp (25 mL) all-purpose flour 

1/2 tsp (2 mL) baking powder 

1/2 tsp (2 mL) vanilla 

1 pinch salt 

1 cup (250 mL) raisins 

1/2 cup (125 mL) chopped walnuts

Preparation
1. In bowl, mix flour with sugar; using pastry blender, cut in butter until crumbly. Press into 9-inch (2.5 L) square metal cake pan; bake in 350°F (180°C) oven for 15 minutes.
NOTE: I used a food processed and pulsed the ingredients together until they mixture was crumbly. The mixture looked very crumbly and like it would not meld together in the oven. Do not worry! It all comes together in the end!
2. Filling: In bowl, mix butter with eggs; blend in sugar, flour, baking powder, vanilla and salt. Stir in raisins and walnuts; pour over base.
3. Bake in 350°F (180°C) oven until top springs back when touched lightly, 20 to 25 minutes. Let cool in pan on rack. Cut into squares.
NOTE: I found that the crust was still quite crumbly even after I let the butter square tart sit & cool off on the counter. It was a bit difficult to cut. I suggest placing the pan in the fridge for an hour to set the crust completely. After I chilled the butter tart square, it was extremely easy to cut into perfect bite sized pieces.
NOTE: I used unsalted butter instead of salted butter. I have to say, salted butter would have added a bit more flavour to the crust itself. I would recommend using the salted butter.
Source: Canadian Living: Christmas Cookies 2010