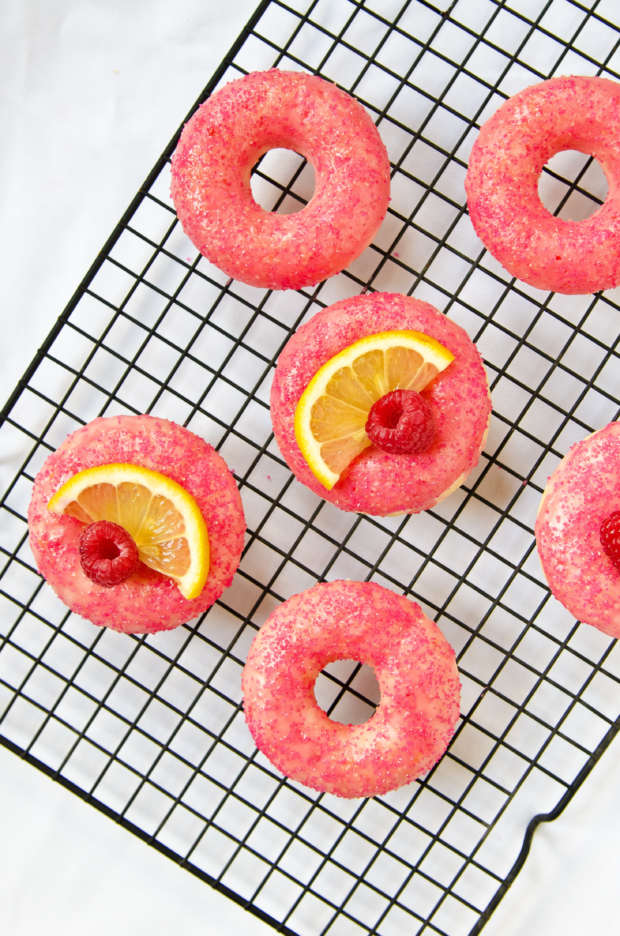 I have some exciting news to share! After a lot of soul searching and self reflection, I have decided to enrol in the Professional Culinary Nutrition Expert Program at the Academy of Culinary Nutrition. The program is a distance education program developed by the incredibly inspiring Meghan Telpner – author of Undiet and The Undiet Cookbook. The curriculum focuses on honing your skills in the kitchen in addition to learning about how food can maintain good health and help people thrive. I really do think the program is the perfect fit for me, as it marries two of my passions – cooking & nutrition. I cannot wait to begin classes in September!!!
And now for something a bit indulgent to celebrate! Baked Lemon Raspberry Donuts!!!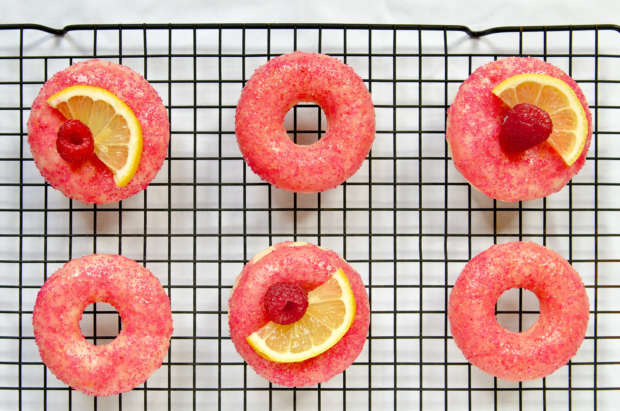 These donuts are so pretty in pink! I made these lovely pink donuts on the weekend just before I heard the new royal baby was a girl. Coincidence!? I think not! *hehe* So, in honour of the birth of the new royal, I shall dedicate these donuts to Princess Charlotte. Such an adorable name, don't you think? The base of the donut is a tart lemon cake studded with fresh lemon zest and is glazed with a bright raspberry glaze that balances tangy with sweet. They are fresh and bright – perfect for spring! And perfection for the celebration of a new little princess!
Baked Raspberry Lemon Donuts
Pretty in pink! These tart lemon cake donuts topped with a sweet raspberry glaze are the perfect way to celebrate spring!
Ingredients
Ingredients: Lemon Cake Donuts

1 and 3/4 cup of unbleached, all-purpose flour
2 teaspoons of baking powder
1/4 teaspoon of salt
Juice of one medium lemon (about 2 tablespoons)
Zest of one lemon
2 tablespoons of canola oil
1/2 cup of sugar
1 cup of unsweetened almond milk

Ingredients: Raspberry Glaze

1 and 1/2 cups of icing sugar/confectioner's sugar
3/4 cup of fresh raspberries (mashed and strained to yield juice)
Juice of 1/2 a lemon
Method
Preheat oven to 350'F. Lightly oil two donut pans and set aside.
In a large mixing bowl, whisk together the flour, baking powder, and salt.
In a small mixing bowl, whisk together the juice of one lemon, zest of one lemon, 2 tablespoon of canola oil, granulated sugar and unsweetened almond milk.
Create a well in the centre of the dry ingredients and pour in the wet. Mix until just combine.
Line a large drinking glass with a plastic bag or piping bag with 1/2 inch of one corner snipped off. Scoop the batter into the plastic bag/piping bag until 3/4 full. Twist the end so that the batter does not come out the opposite side when squeezed. Pipe the filling into the donut pan cavities about 2/3 of the way full. Make sure to leave the donut holes clear.
Bake donuts for 14 minutes, or until slightly golden and a toothpick inserted in the middle comes out with a dry crumb. Transfer to a wire rack to cool completely.
Prepare the glaze by whisking together the confectioner's sugar, the raspberry juice and the lemon juice. Dip the tops of the cooled donuts into the glaze and finish with sprinkles. Place the donuts in the fridge for 10 minutes to allow the glaze to harden. Store in an airtight container for up to 3 days.
Source: inspired by Baked Chocolate Doughnuts by Ashlae Warner