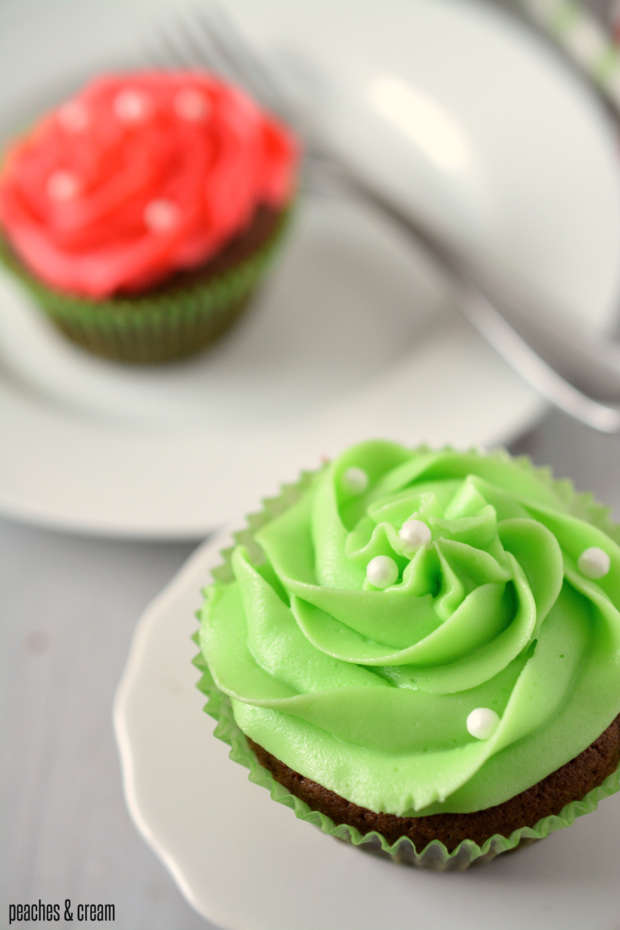 To get everyone into the most Christmasy of spirits, I have asked my good friend Helena from Peaches & Cream to guest post on The Fig Tree. And in turn, I am guest posting on her and her sister's awesome blog (seriously…go check their blog out ASAP). Thank you so much Helena for sharing such a fantastic seasonal recipe. I adore chocolate cupcakes! Mmmm! And you are definitely right when you say that chocolate and peppermint are quintessential Christmas flavours!
And thank you so much for giving me the honour of posting on your blog today. In honour of my grandpa who worked at Eatons (once a famous department store in Canada) for 35 years – I am sharing Eaton's-Style Gingerbread Men over at Peaches & Cream.
Without further ado – here's Helena!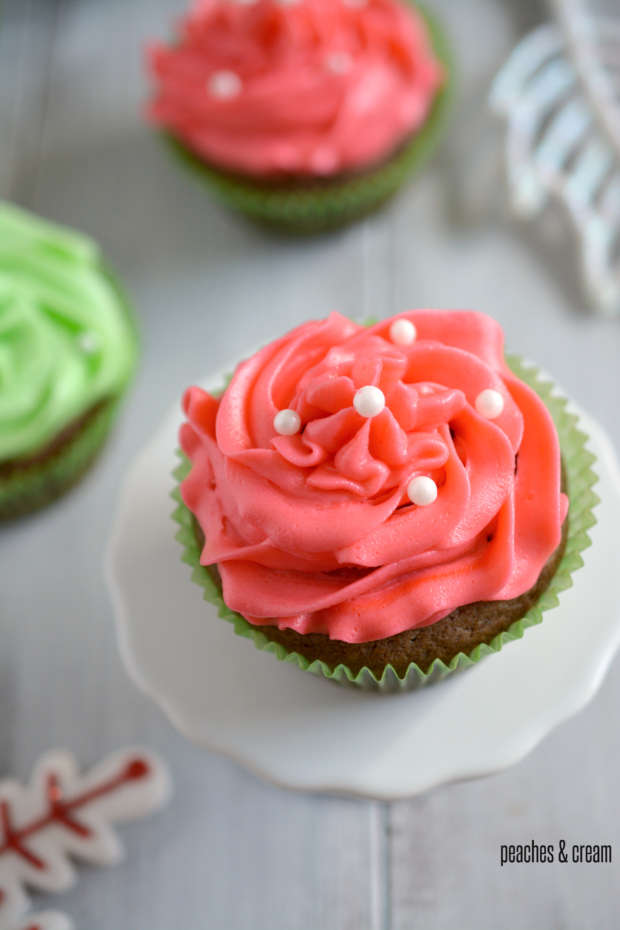 Hello! My name is Helena-I am from a little blog called Peaches & Cream!  My twin & I love to focus on good food & sharing it with our friends & readers.  I find being in the kitchen is where I'm the most relaxed.  Photography has become my creative outlet.  I used to hate it, but now I love it!  This blog has become so meaningful to me over the past 2 years, and I'm so grateful of the people I have met as a result!
Courtney texted me in November and asked if we could get together for a Christmas-themed post.  It was a total no-brainer.  Of course I said yes!!!  I found that I already knew what to make.  Chocolate & peppermint are some of the quintessential Christmas flavors.   I know there are more, but these are my favorite to work with.  These cupcakes are one of THE best cupcakes I've made-I love how moist they are.  Plus, the frosting is quite light and airy and they complement the cupcakes well.  You can add some additional coloring to give it holiday flair; I divided the frosting into 2 parts and colored it accordingly.
I hope everyone is getting excited for the Christmas season!  Head over to my blog to see what Courtney made!!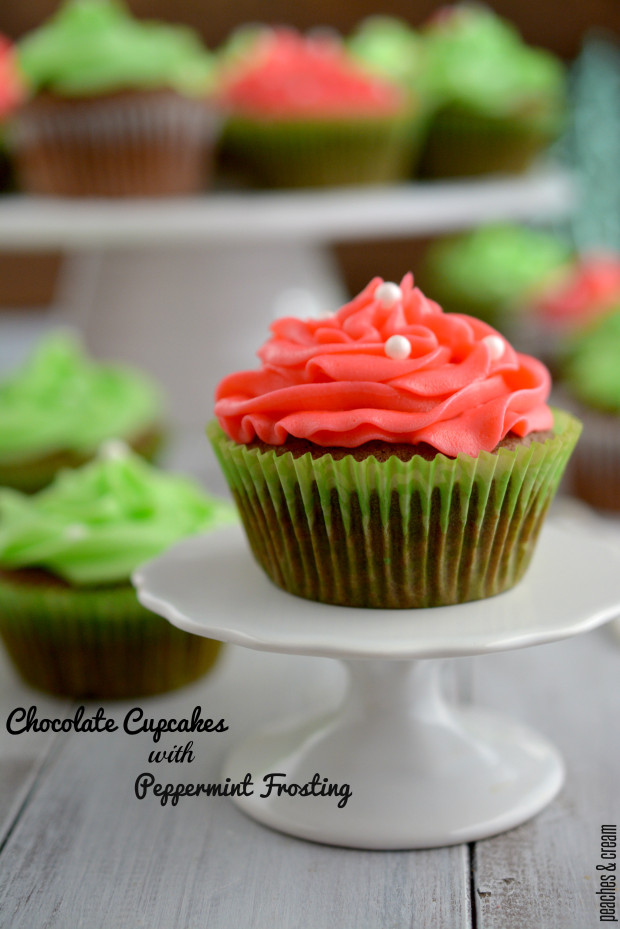 Chocolate Cupcakes with Peppermint Frosting
Ingredients
½ cup plus 1 tablespoon Dutch-process cocoa powder
½ cup plus 1 tablespoon hot water
2¼ cups all-purpose flour
¾ teaspoon baking soda
¾ teaspoon baking powder
½ teaspoon salt
2 sticks plus 1 tablespoon unsalted butter, at room temperature
1 2/3 cups sugar
3 large eggs, at room temperature
1 tablespoon vanilla extract
¾ cup sour cream
2 ½ sticks butter (1 ½ cup)
5 cups powdered sugar
½ teaspoon pure peppermint extract
Food gel, red or green
Method
Preheat the oven to 350˚ F. Line cupcake pans with paper liners.
In a cup or a small bowl, combine the cocoa powder and hot water. Whisk until smooth.
In a medium sized bowl, mix together for flour, baking soda, baking powder, salt until well combined.
In a medium-sized saucepan, melt the butter & sugar over medium heat. Transfer the mixture to the bowl of a stand mixer and beat on medium until cool, approximately 3-5 minutes. Add the eggs one at a time, ensuring each addition is mixed in well. You may need to scrape down the sides of the bowl.
Blend in the vanilla & cocoa mixture until smooth. Turn the mixer down to low, add the flour in three additions, alternating with the sour cream.
Divide the batter evenly between the prepared liners. Bake for about 18-20 minutes or until a toothpick inserted in the center comes out clean. Rotate the pans halfway through.
Remove from oven & allow to cool for 10 minutes before transferring to a wire rack to cool completely.
For the frosting: In the bowl of a stand mixer fitted with the paddle attachment, beat the butter, sugar, peppermint extract until smooth. Add food coloring if desired. Frost the cooled cupcakes.
Notes
Source: Martha Stewart's Cupcakes, as seen on Annie's Eats