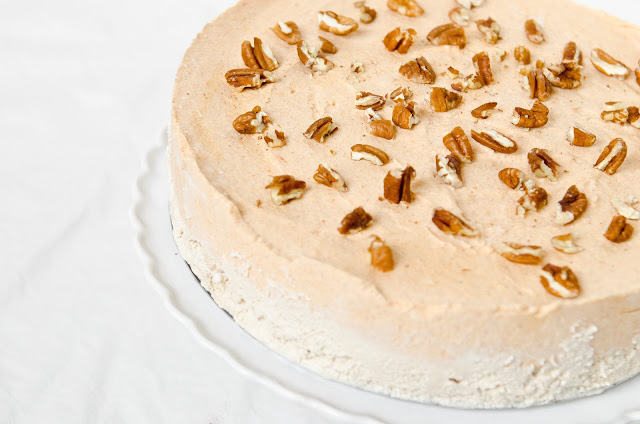 Last weekend, we celebrated Thanksgiving here in Canada. We celebrated with all of the classic Thanksgiving favourites – sweet potatoes, stuffing, mashed potatoes, cabbage rolls, pecan tarts etc. I love love love traditional Thanksgiving food. But this year, I opted to make a less-than-traditional pumpkin dessert for our celebrations. The week of Thanksgiving, I found a recipe for a frozen pumpkin dessert in a local newspaper and I was inspired. I decided to try the recipe, but made a few adjustments. I opted to use Maple Walnut ice cream as my first layer. And I thought it would be perfect if I made the pumpkin layer into a delicious, creamy cheesecake layer. The result was wonderful! 
I did make a few mistakes when I made this dessert for Thanksgiving. The first was that I did not let the ice cream freeze fully, so it softened (melted) much faster than the cheesecake portion when I was serving it. It made for a bit of a mess while eating, but it was still extremely delicious. I also used a smidge too much pumpkin puree which made the cheesecake layer a bit less creamy than I had hoped. I have made adjustments to the recipe below, so that it should turn out great in the future!
So, if you are looking to try a pumpkin dessert that's a bit different, then be sure to give this recipe a shot. So many delicious flavours in one yummy dessert. To make it even better, I suggest topping the cake with either fresh whipped cream or caramel when serving.
Ingredients
946 ml (1 quart) of Maple Walnut or Pecan Praline ice cream, slightly softened

1 and 1/2 cups of pumpkin purée

1-8oz block of cream cheese, at room temperature

1 cup of icing sugar

2 teaspoons of pumpkin pie spice

1 teaspoon of pure vanilla extract

2 cups of cold whipping cream (35% M.F.)

pecans for garnish

caramel topping (optional)
Note: Ice cream should be soft enough to spread evenly in the pan, but not melting.
Method
1. Put an 8 inch springform pan in the freezer for at least 30 minutes to chill thoroughly. Spoon the ice cream into the chilled pan. Press to form a flat surface. Put several layers of plastic wrap over the ice cream and freeze for 2 hours (or until firm).
2. In a medium bowl, beat the cream cheese until soft and fluffy. Add the pumpkin and blend well. Add the sugar and pumpkin pie spice and mix until everything is well combined.
3. In another medium bowl, whip the whipping cream and vanilla until light & fluffy and soft peaks form. 
4. Gently fold the whipped cream into the pumpkin mixture. Remove the plastic wrap from the frozen ice cream layer and spoon the pumpkin mixture over top. Freeze for at least 3 hours or overnight. Just before serving, remove pan sides and place on a serving plate. Garnish with chopped pecans. You can also add some caramel or more whipped cream on top.
Serves: 12 portions
Source: adapted from the Winnipeg Free Pres