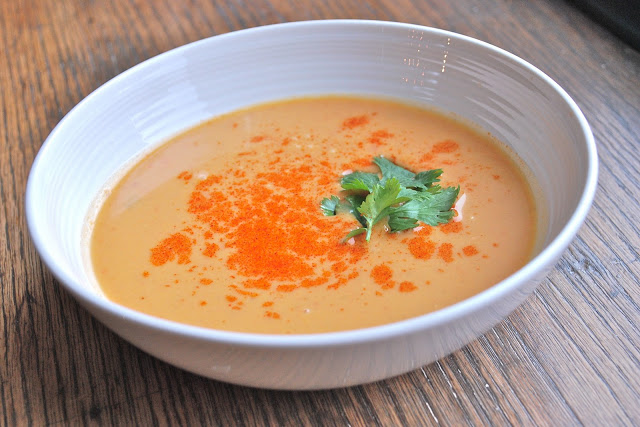 Throughout the winter, my boyfriend and I end up eating a lot of soups. I love soup. So versatile, so delicious…and if you plan it right…soup can be very healthy and filling. I find that soup is perfect for both vegetarians and meat-eaters alike. Soup tends to have a healthy dose of veggies and protein. And they certainly warm up very cold winter days. 
Even though spring is slowly approaching (too slowly!), the evenings are still pretty chilly here on the prairies. So, I was craving some soup earlier this week. I decided to try and re-create my boyfriend's favourite soup – West African Peanut Soup. Every few weeks, we find ourselves at Prairie Ink Café at McNally Robinson Booksellers and he almost always gets a huge bowl of this West African Peanut soup. I don't blame him; it is really, really good! Enjoy! :)
Ingredients
3/4 cup of carrots; peeled and diced

3/4 cup of celery; diced

3/4 cup of white onion; diced

1 tablespoon of canola oil

2 cloves of garlic; minced

4 cups of sweet potato; peeled and chopped (about 2 medium sweet potatoes)

1.5 cups of smooth peanut butter

5 cups of water or vegetable stock

14 ounce can of canned whole tomatoes; drained

1 teaspoon of cumin

1/4 teaspoon of cayenne pepper

3/4 teaspoon of cinnamon powder

1/2 to 3/4 tablespoon of kosher salt (to taste)
Method
1. In a large pot over medium-high heat, sauté onions and celery in canola oil for 4 minutes.
2. Add garlic and sauté for 30 seconds. Add carrots and sweet potato. Cook for about 3 minutes; stirring frequently.
3. Add vegetable stock (or water). Let the mixture come to a boil and then reduce to a simmer. Cook for approximately 15 minutes or until the sweet potatoes have softened.
4. Add the canned tomatoes, cumin, salt and cinnamon. Slowly stir in the peanut butter. (note: I think crunchy peanut butter may add some nice texture to the soup)
5. Purée the soup with a hand immersion blender in the pot or in a food processor. If you use a normal blender, make sure to cover the top/lid of the blender with a thick tea towel, so you do not get hot liquid on your hands. If you do not have a way to blend/purée the soup, you can leave it as is and have a chunkier soup. Still very tasty!
6. Heat blended soup and add cayenne pepper to taste. 1/4 to 1/2 teaspoon should be plenty to add some nice heat. Garnish with a touch of smoked paprika and/or chopped peanuts. 
NOTES
To bump up the protein, you can easily add chickpeas to the soup. Just add a 15ml can of chickpeas (rinsed well) to the soup while the sweet potatoes cook. You could also add the chickpeas after the soup has been puréed for a different type of soup.
If you find that the consistency of the soup is too thick, add another cup or two of water. This soup is a thicker textured soup, but can easily be thinned out depending on your preference.
If you find that there is not a strong enough flavour of peanut butter, add another 1/4 cup.