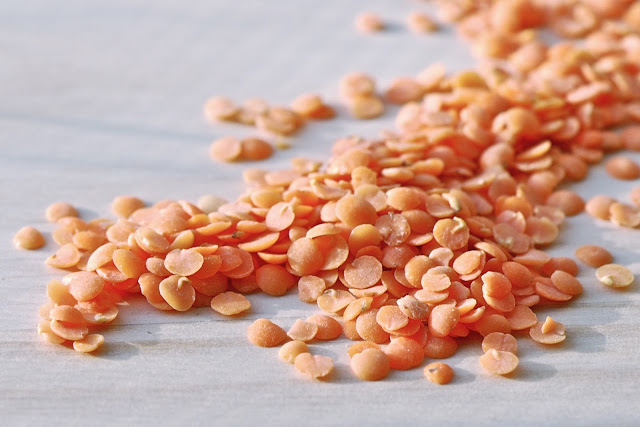 Here is another quick vegetarian dinner to warm up even the coldest evenings of January: curried lentils. This dinner takes only 20 minutes to make and is full of flavour. I make this at home at least once a week during the winter. The recipe makes quite a few servings, so if you'd only like to make a small amount, please half the recipe :) Although, in making the full recipe, you are guaranteed lunch for a few days after. Stay warm!
Ingredients
2 cups of red lentils (rinsed)

1 teaspoon of olive oil

4 cloves of garlic; minced (or 1 and 1/2 teaspoons of garlic powder)

1-28 ounce can of diced tomatoes

2 cups of vegetable stock

1 and 1/2 teaspoons of ground cumin

1 teaspoon of turmeric

3/4 teaspoon of ground cinnamon

salt and pepper to taste

1/4 teaspoon of cayenne (optional)


Method


1. Rinse the lentils well and soak them for 5 minutes in warm water. Drain.


2. Add olive oil to a large pot. Sauté garlic on medium heat for about a minute. (note: if you are using garlic powder, I would recommend adding it to the stock/tomatoes instead).


3. Add canned tomatoes to garlic. Add cumin, cinnamon, turmeric, salt and pepper. Stir to combine.


4. Add 2 cups of vegetable stock. Bring mixture to a boil and add the drained lentils.


5. Reduce to a simmer. Partially cover the pot with a lid. Simmer for 15 minutes until lentils are tender. If you find that the lentils are becoming too dry, add an additional 1/2 cup of water or vegetable stock.


NOTE: you can add more vegetable stock if you'd like to make this into a soup. Otherwise, serve the lentils as a stew, on basmati rice, jasmine rice quinoa or couscous. Or scoop the lentils with toasted garlic naan. Mmm!