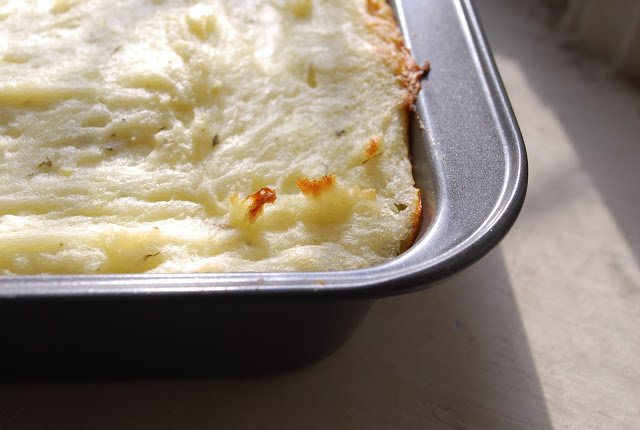 I've been a vegetarian for 13 years and I can honestly say, I never miss eating meat. However, I do miss the heartier dishes such as pot pie and shepherd's pie especially when the weather is growing cooler and snow can be expected any day. And since I was so used to eating both pot pie and shepherd's pie with meat, I was not too sure how to make the vegetarian variety.
Recently, I was watching "Chuck's Day Off" on the Food Network and was elated when he made a vegetarian shepherd's pie. But it was not just any shepherd's pie! The mashed potato topping has a whole head of roasted garlic, a block of goat cheese and a decent amount of cream! And under the layer of potatoes is a fantastic, flavourful layer of roasted spaghetti squash. And the final layer, veggies (I substituted zucchini for the mushrooms) and lentils in a herb sauce. I made this meal for my family & I would venture to say that everyone loved it. NOTE: this makes a large pan of shepherd's pie which lends itself to a lot of leftovers.
Ingredients
1 spaghetti squash
1 head of garlic
1/4 cup olive oil (60 ml)
2 cups bread crumbs (500 ml)
1 cup milk (250 ml)
1/4 cup roasted pine nuts (60 ml)
2 eggs, beaten
1 tablespoon fresh basil, chopped (15 ml)
1 tablespoon fresh thyme, chopped (15 ml)
1 tablespoon flat parsley, chopped (15 ml)
6 Yukon Gold potatoes, boiled but not peeled
1/4 cup melted butter (60 ml)
1/2 cup smooth goat cheese (125 ml)
1 cup 35% cream (250 ml)
3 cups sliced mushrooms
6 cups wild mushrooms (you can substitute zucchini)
1 medium onion, chopped
2 carrots, chopped
2 celery stalks, chopped
4 cloves garlic cloves, minced
1 cup dried Du Puys lentils, cooked (250 ml) (could use kidney beans or chickpeas)
Fried shallots to garnish
Salt and pepper
Method
Preheat the oven to 300 °F (150 °C).
First, cut the spaghetti squash in half and remove the seeds. Place on a baking sheet and bake for 1 ½ hours. As an alternative, place on a plate and cook in the microwave on high for about 20 minutes.
Put the garlic head on a baking tray. Drizzle with 1 teaspoon (5 ml) olive oil. Season with salt and pepper and put in the oven for 30 minutes or until the garlic is very tender.
In a bowl, mix the bread crumbs with the milk. Let stand for 5 minutes until all the liquid has been absorbed. Mix in the pine nuts, the eggs and herbs. Put aside.
Mash the potatoes with the butter, goat cheese, cooked garlic puree and cream to make them nice and smooth. Season with salt and pepper.
Remove the spaghetti squash flesh with a fork and put it in a bowl. Season with salt and pepper and put aside.
Preheat the oven to 450 °F (230 °C).
Heat the remaining oil in a large pan and saute the onions, carrots and celery over medium heat until soft and translucent, about 5 minutes. Add garlic and mushrooms (or zucchini) and continue cooking until brown, about 10 minutes. Remove from heat. Add the cooked lentils and the bread mixture. Stir and put aside.
In an 8 x 11 inches (20 x 28 cm) baking dish, spoon the vegetable mixture onto the bottom. Layer with the spaghetti squash, then the potatoes and smooth them down. Cook in oven for 30 minutes or so until top is slightly browned. Garnish with fried shallots to taste.
Preparation time: 30 minutes
Cooking time: 70 minutes
Yield: 8