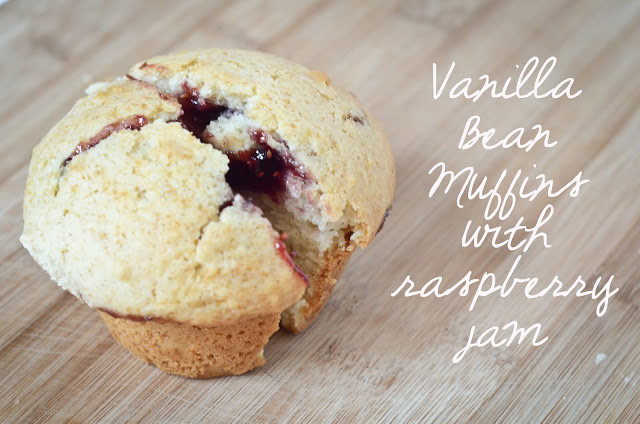 I made these delicious muffins last weekend to bring a very dear friend of mine who just got out of the hospital. My friend is one of the most inspiring women I've ever met and I truly admire her courage and perseverance. She is a very strong woman, yet such a soft & kind soul. She is one of those people who works very hard to help others locally and around the world. She is very active as a human rights advocate…and just simply a lovely person. When she was injured in an accident last month, I was truly devastated. My friend and her family have become like my family. I worried that the accident would cause her to lose the zest she had for life. When I visited her this past weekend, I was amazed at how positive she was and looking toward making a full recovery. I am so pleased she is doing so well and continues to see life with such a vibrance. Very inspirational! I hope these little vanilla bean muffins helped her feel better and made her smile :)
Ingredients
1 and 1/2 cups of milk

1 vanilla bean

1 and 1/2 cups of white sugar

2/3 cup of canola oil or vegetable oil

2 eggs

3 and 1/2 cups of all-purpose flour

1 tablespoon of baking powder

1/2 teaspoon of ground nutmeg

1 teaspoon of salt

1/2 teaspoon of ground cinnamon

1/2 cup of raspberry jam
Method
1. Preheat oven to 350'F.
2. Heat milk with scraped seeds and pod of the vanilla bean over medium-low heat for about 15 minutes (to infuse the milk with flavour). Remove the vanilla pod and let the milk cool to room temperature.
3. Whisk the sugar, oil and eggs into the cooled milk.
4. In a separate bowl, sift together the flour, baking powder, nutmeg, salt and cinnamon. Add the milk mixture and blend just until incorporated. Note: do not over mix the batter.
5. Fill greased muffin tins 2/3 full with batter. Spoon one tablespoon of raspberry jam into the centre of each muffin. Top with remaining batter and bake for 35 to 45 minutes; or until the tops are a light golden brown. 
Let the muffins cool in the tin for 15 minutes. Then turn out to cool completely.
Source: Anna Olson's Sugar