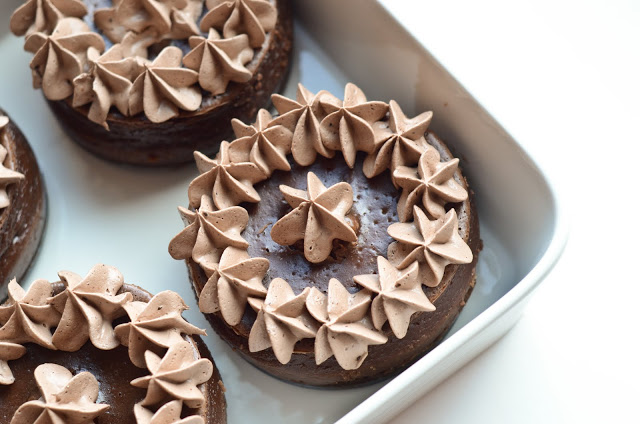 I had an idea that I wanted to make a cheesecake that tasted like a Ferrero Rocher chocolate. They are my favourite chocolate. Every Christmas, I look forward to getting a huge box of them in my stocking :) One Ferrero Rocher is never enough! So, I thought, perhaps I could make a whole cheesecake that tastes like a Ferrero Rocher. It would be magic!
 I had some free time this afternoon, so I decided to try and create my dream cheesecake. I used a chocolate cheesecake recipe by Anna Olson for my base. And then I flavoured the cheesecake with Frangelico (hazelnut liqueur), Nutella (chocolate/hazelnut spread), hazelnuts in the crust and then added some chopped Ferrero Rocher chocolates right into the cheesecake filling. The outcome was outstanding! The cheesecake was extremely rich and creamy. And it definitely tasted like a Ferrero Rocher chocolate. The icing I decided to add was a really nice addition. Although, you can definitely leave it out if you'd like to skip a step.
I brought this over to my parents' place for dessert tonight after dinner. It was a huge hit. My sister said she loved the small bits of Ferrero Rocher mixed right into the filling. Warning: Prepare yourself for the ultimate chocolate overload!


Ingredients
1 cup of graham cracker crumbs

1/3 cup of ground hazelnuts; ground

1/4 cup of light brown sugar; packed

1/4 cup of unsalted butter; melted

1/2 teaspoon of pure vanilla extract

6 ounces of semisweet chocolate; chopped

2 cups of whipping cream (35%)

1/4 cup of Nutella spread

1 pound of cream cheese (500g or 2-8oz packages); at room temperature

3/4 cup of sugar

1 tablespoon of cornstarch

1/2 cup of hazelnut liqueur (such as Frangelico)

2 large eggs

9 Ferrero Rocher chocolates; chopped

1/2 tub of Cool Whip OR 1 cup of 35% cream whipped until soft peaks

1/2 cup of Nutella; melted
Method


1. Prepare the crust: Preheat the oven to 350'F. Combine the graham cracker crumbs, the brown sugar and the chopped hazelnuts in a small bowl. Combine the melt butter and vanilla and then add to the graham cracker mixture. Mix with a fork until the crumbs are well coated in butter and moist. Press the graham cracker mixture into either 6-4 inch spring form pans or 1-9 inch spring form pan. Bake the crust(s) for 7 minutes, remove from oven and allow the crust(s) to cool completely.


2. Reduce the oven temperature to 325'F. Place the chopped chocolate and Nutella in a bowl. Heat the cream on medium-low heat ensuring that the cream does not burn. Allow it to come to a very gentle simmer. Pour the hot cream over the chocolate & Nutella. Stir gently until the mixture is smooth and chocolate is all melted. Set aside.


3. In a bowl using an electric hand mixer (or with a stand mixer fitted with the paddle attachment), beat the cream cheese until light and fluffy. Scrape down the sides of the bowl and then add the sugar. Beat well and then add the cornstarch; until just combined. Note: Don't over beat the cheesecake mixture, as you don't want to have air pockets in your filling. These air pockets can lead to cracks developing in your cheesecake while its baking.


4. Add the hazelnut liqueur and the eggs to the cream cheese batter. Beat eggs in well and then slowly add in the melted chocolate mixture. Add the chopped Ferrero Rocher chocolates. Mix and then pour the batter into the 6-4 inch or 1-9 inch spring form pan(s). Bake for 30 minutes. Note: you don't need to use a water bath for this cheesecake, as those that have flour or corn starch in the recipe tend not to need one. 


5. Once the cheesecake bakes for 30 minutes, turn the oven off. Without opening the oven door, allow the cheesecake to sit in the oven for another 30 minutes. The cheesecakes will still look a little runny in the middle, but that is okay. Cheesecake filling is a custard and won't firm up until it sits & sets. You don't want to over bake the cheesecake, or you'll get a very dry filling that is prone to cracking. If you allow the cheesecake to set while it is still a bit "jiggly" with a runny middle, you'll get a luscious and creamy cheesecake. That being said, the cheesecake filing should not appear completely liquid. It should be just  quite jiggly.


6. Once you remove the cheesecake from the oven, allow it to cool to room temperature on a wire cooling rack. You may want to loosen the spring form pan(s), as the cheesecake will contract and may crack. Don't worry if your cheesecake does crack. It will still be delicious!


7. Once the cheesecake is at room temperature, place in the fridge and allow to rest overnight. It will firm up nicely. 


8. When ready to serve the cheesecake, microwave the 1/2 cup of Nutella for approx. 30 seconds. Then mix it into the Cool Whip OR fold it into the whipped cream. Ice the cheesecake as desired/if desired. Note: the icing is DELICIOUS! *hehe*


Note: After the cheesecake has sat in the fridge over night, remove from the fridge approximately 1 hour before serving. 


Freezing Cheesecake: You can freeze this cheesecake quite easily. Allow the cooled cheesecake to freeze uncovered for at least an hour and then wrap well with plastic wrap. Make sure you don't freeze the cheesecake with any topping on. When ready to use, take the cheesecake out of the freeze and place in the fridge. Allow it to thaw over night. Decorate as desired once thawed.


Source: Chocolate Cheesecake base by Anna Olson