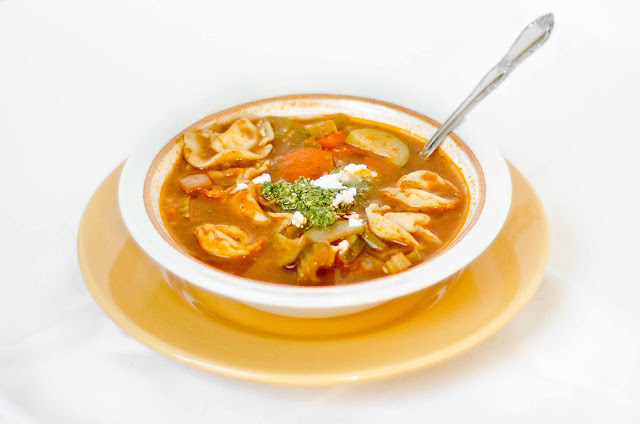 This soup is perfect if you are looking for a quick & hearty soup to make during a busy week. It's a soup that tastes like it took a lot of time and effort, but really, it can be made in 30 minutes. What I liked most about this soup is that your carb cravings are satisfied with the addition of a few tortellini in each bowl, but it's light enough that it won't bog you down and leave you feeling heavy. Each serving of soup contains a healthy dose of veggies. The addition of beans up the protein and fibre values of the soup making it a great, healthy soup to throw together. Best of all, you are likely to have left overs for lunch the next day! :)
Ingredients
1 tablespoon of olive oil

2 carrots, peeled and cut into 1/2 inch pieces

2 stalks of celery, cut into 1/2 inch pieces

1 medium onion, minced

5 ounces of mushrooms, sliced

4 cloves of garlic, minced

1 tablespoon of fresh oregano, minced (or 1 teaspoon of dried oregano)

3 cups of low-sodium vegetable broth

2 and 1/2 cups of low-sodium V8 vegetable juice

1-15 ounce can of cannellini beans; drained & rinsed

1-9 ounce packages of fresh cheese tortellini

1 medium zucchini, halved and cut into 1/2 inch pieces

salt and pepper to taste

1/2 cup of pesto (homemade or refrigerated store-bought variety)

grated parmesan for garnish
Method
1. Heat the olive oil in a large pot over medium heat. Stir in the carrots, celery, onions and 1/4 teaspoon of salt. Add black pepper to taste. Cook until the onions are just softened (approx. 3 to 5 minutes). Stir in the mushrooms and cook until all of the vegetables are softened (about 5 minutes). Add the garlic and oregano and cook until fragrant (about 30 seconds).
2. Stir in the vegetable broth, scraping up any browned bits. Stir in the vegetable juice and beans; bring to a boil. Reduce the heat to a simmer and cook for 10 minutes.
3. Add the tortellini and zucchini and continue to simmer until the pasta is cooked through (about 7 minutes).
4. Season with salt and pepper to taste. Divide among serving bowls and top each portion with a spoonful of pesto and a sprinkle of parmesan cheese. Serve and enjoy.
Source: Pink Parsley