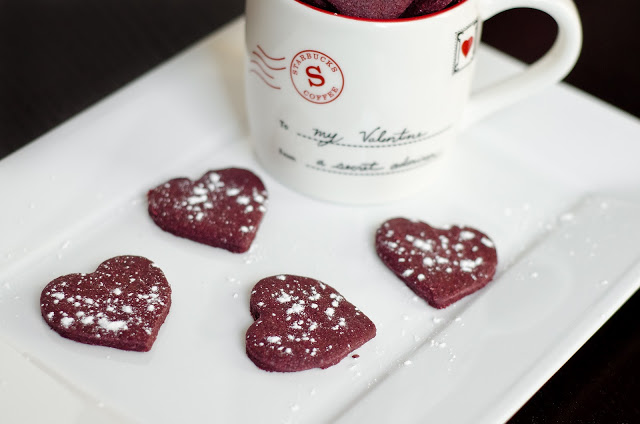 When I think of Valentine's Day, I think of candy hearts, boxes of chocolates, and anything Red Velvet. Last Valentine's Day, I made Red Velvet cupcakes for the first time and was pretty impressed. I had never tried Red Velvet cake before. Crazy, I know! This year, I decided to make red velvet shortbread. Shortbread and Red Velvet -what's not to like!? The dough is extremely easy to put together & work with. An added bonus – the ingredient list is short & sweet. The end result – adorable red heart-shaped shortbreads – buttery and light with a delicious moist crumb.  These cookies are perfect for sharing with your Valentine. Or wrap about 12 of these little cookies in some pretty pink or red tissue paper, and give them to a friend as a sweet Valentine's Day treat. To fancy them up a bit, drizzle the cookies with melted white chocolate. Enjoy!


Ingredients
1 and 1/4 cups of all-purpose flour

1/3 cup of white sugar

2 tablespoons of unsweetened cocoa powder

1/4 teaspoon of salt

1/2 cup of unsalted butter; cut into pieces (could use Earth Balance vegan butter)

1 tablespoon of red food colouring


Note: I found that the recipe did not call for quite enough butter. I ended up adding another 1/4 cup. I suggest you start with 1/2 cup. If the dough does not come together easily, add another 1/4 cup.


Method


1. Pre-heat oven to 325'F.  In a food processor, combine the flour, sugar, cocoa powder and salt. Cover and pulse until well combined. 


2. Add the butter and food colouring. Pulse until mixture resembles fine crumbs. Then you can process until the mixture just forms a ball. If dough is not coming together, add more butter in 1/4 cup increments here.
3. On a lightly floured surface, knead the dough lightly until smooth. Roll dough to 1/2-inch thickness. Using a floured heart-shaped cookie cutter (about 1 and 1/2 inch), cut dough into heart shapes. Place the cutouts 1 inch apart on an ungreased cookie cheet. Press scraps together and re-roll. Continue this pattern until all dough is used.
4. Bake cookies for 10-12 minutes, or until cookies are set. Transfer cookies to a wire rack and allow them to cool.
5. Decorate cookies with icing sugar or a drizzle of white chocolate.
Yield: 24 medium sized short bread cookies
Hand Mixing Method:

in a medium bowl, stir together flour, sugar, cocoa powder, and salt. Using a pastry blender or two forks, cut in the butter and food colouring until the mixture resembles fine crumbs & starts to cling together. It may take some time for the dough to form when using the hand mixing method. Once the dough starts to come together, knead it until smooth.
Storage:

store at room temperature for 3 days and in the freezer for up to 3 months
Source: Better Homes & Gardens website