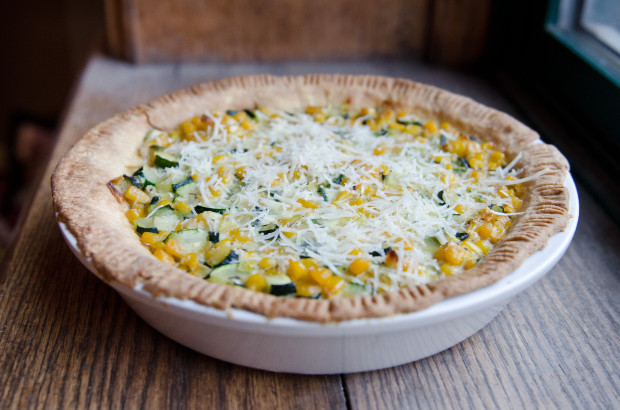 Ahhh…summer is back here on the Prairies! The end of July and beginning of August was quite cool here…but summer is back with a vengeance this week. A hot, sweaty vengeance! And I could not be more pleased. Especially since I have tomorrow off and can actually go to the beach! This warm weather also means that veggie gardens are thriving and soon there will be an overabundance of fresh produce to contend with. I'm hoping my little sister will pass on some zucchini once they are ready in her garden *hint hint*
I recently made this delicious corn and zucchini quiche after a stop at a local farmer's market. What can be better than fresh corn and zucchini in the summer?! Well, probably buckets of sangria – but that's beside the point! :) When I made this quiche, I used a homemade cornmeal crust, but it did not turn out well. I wish I had my mom's pie making skills! Her crusts are always so tender and flaky. Mine…could be used as a door stop. *haha*
Using a store-bought pie crust makes this dish perfect for quick and easy week night dinners in the summer. However, feel free to use homemade pie crust if you prefer. Just make sure the crust is pre-baked to ensure that the quiche mixture does not cause the pastry to become mushy. Serve this quiche with a nice light salad with a simple oil-vinegar dressing and you're set for the perfect summer-time meal :)
Ingredients
1 frozen pie crust (prepared according to package)
1 tablespoon of olive oil or canola oil
2 leeks, (white and light green parts only), well rinsed and thinly sliced
1 cup of fresh corn kernals
1 medium zucchini, diced
2 teaspoons of fresh thyme
salt and pepper to taste
1/2 cup of shredded Gruyère cheese (or your favourite hard cheese)
4 eggs
3/4 cup of half & half cream (5% M.F.)
Method
1. Pre-bake crust according to package.
2. Meanwhile, in a large skillet, heat the olive oil over medium heat. Fry the leeks, stirring until softened (about 5 minutes). Add corn, zucchini, fresh thyme, salt and pepper. Sauté until zucchini is slightly tender (another 5 to 8 minutes). Remove from heat.
3. Sprinkle the gruyère cheese into the baked pie shell.
4. Whisk together the four eggs and cream and then add them to the zucchini/corn mixture. Pour mixture into the prepared pie crust.  Sprinkle top of quiche with more cheese if desired.
5. Bake the quiche at 375′F for about 40 minutes, or until a knife inserted in the centre comes out clean. Let cool on rack for 10 minutes before serving.  Note: if the edges of the pie begin to brown too quickly in the oven, shield the pastry rim with foil.
Note: You can let the quiche cool for 30 minutes, cover and refrigerate. To re-heat, bake in oven at 350′F for 20 minutes.
Yield: 8 servings
Source: based on recipe from Canadian Living Vegetarian Cookbook